THE STUDENT PORTFOLIOS ARE SOLD OUT!
CLASS OF 2020 PRINTER TRAINING PROGRAM 
IRENE BEDNARCZYK
Irene Bednarczyk is a lithographer, artist, and educator from Southern Connecticut. She holds a BFA in Drawing from Lyme Academy College of Fine Arts and an MAT from Rhode Island School of Design. For the past four years, Irene has worked as a lithographer at Milestone Graphics Fine Prints in Bridgeport, CT, where she had the opportunity to learn the craft and tradition of collaborative lithography with James Reed, printing for local and national artists and printmakers.
JULIE BELLAVANCE
Julie Bellavance was born in Arthabaska, Canada. She studied printmaking and honed her love of lithography while pursuing her MFA at Université Laval in Quebec City. She has exhibited her works in Canada, France, Germany, and Scotland, and has participated in artist residencies in Val David and Trois-Rivières, Canada, as well as in Eichstätt, Germany. Her artworks are in the collection of Bibliothèques et Archives Nationales du Québec and the Sammlung Lithographie Eichstätt, Germany.
JUSTINE DITTO
Originally from Houston, TX, Justine Ditto received her BFA in printmaking from the Pennsylvania Academy of the Fine Arts (PAFA) where she first encountered lithography under the tutelage of Ron Wyffels and became immersed in the study of printmaking and collaboration. While continuing to work in lithography, intaglio, screen printing, and monotype/print at PAFA, she began working as a press assistant at Petrichor Press. Her experiences in print range from working at Second State Press, curating exhibitions and producing screen printed merchandise in the Spillway artist collective, completing a screen printing apprenticeship at the Fabric Workshop and Museum in Philladelphia, and most recently working for a year as an Emerging Artist in Residence at Millersville University's Printmaking Department. 
ALYSSA EBINGER
Born and raised in Minnesota, Alyssa Ebinger received her BA in Art Education from the Minnesota State University of Moorhead. In 2016, she took a break from teaching high school art to attend the Pennsylvania Academy of the Fine Arts (PAFA) where she completed her MFA. She studied printmaking with an emphasis on lithography along with bookmaking, drawing, and sculpture. She was the Lithography Graduate Assistant for Ron Wyffels during her time at PAFA and continued to be his assistant after her graduation in May 2018. 
ANDREW ECKHARDT
Andrew Eckhardt is a printmaker from Brisbane, Australia. He received a BFA in printmaking from Massachusetts College of Art and Design in 2018. While based in Boston, Eckhardt worked in conservation at the Museum of Fine Arts Boston and as a print assistant at Muskat Studios. He is interested in creating a cooperative space that would facilitate the creation of Queer art. 
CYNTHIA JUÁREZ
Cynthia Juárez was inspired by DIY culture and began teaching herself how to screen print in her parents' home at the age of 17. She received her AFA in Art Studio from Harold Washington College in Chicago, IL in 2017, and her BFA in Art Studio from The University of New Mexico in 2019. She intended to expand her knowledge of screen printing and lithography and wound up using both mediums exclusively for her thesis work during her senior year at the university.
MAGGIE MIDDLETON
Maggie Middleton grew up in Reston, VA, and was introduced to printmaking while attending Oberlin College. Since then she has continued her printmaking journey by attending the Eugeniusz Geppert Academy of Art and Design in Wrocław, Poland, where she completed her MFA in Printmaking in the lithography studio. Her artistic practice revolves around identity and perception, the gendering of pattern, exotification of culture, and religious iconography.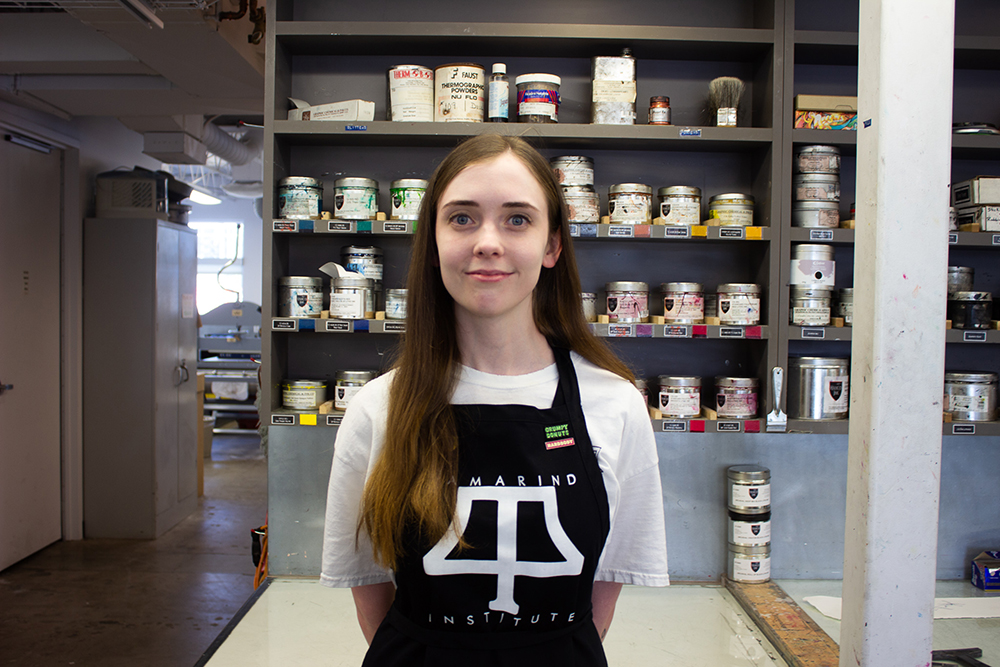 SARAH PLUMMER
Sarah Plummer was raised in Sydney, Australia and moved to the USA to pursue a Bachelor of Fine Arts in Printmaking at Rhode Island School of Design. She has held various positions at the Museum of Contemporary Art, Sydney, and has most recently been part of the support at Studio A, a Sydney-based studio for neurodiverse artists. Sarah is deeply enchanted by the the simplicity that sits beneath the complexity of lithography. At Tamarind, she hopes to calcify her knowledge and technical skills, and looks forward to owning her own shop one day. 
2019-2020 PRINTER TRAINING PROGRAM PORTFOLIO
All proceeds go directly to the PTP Class of 2019-20
Email tamarind@unm.edu to support our students and reserve your portfolio
$300 for this portfolio of eight lithographs
SOLD OUT
Irene Bednarczyk
Hybrid, 2019
Multi-color lithograph
20 x 15 inches
Edition of 15
Collaborating printer: Justine Ditto
Julie Bellavance
Acanthus, 2019
Multi-color lithograph
20 x 15 inches
Edition of 15
Collaborating printer: Maggie Middleton
Justine Ditto
Sub/Emerge, 2019
Multi-color lithograph
20 x 15 inches
Edition of 15
Collaborating printer: Cynthia Juárez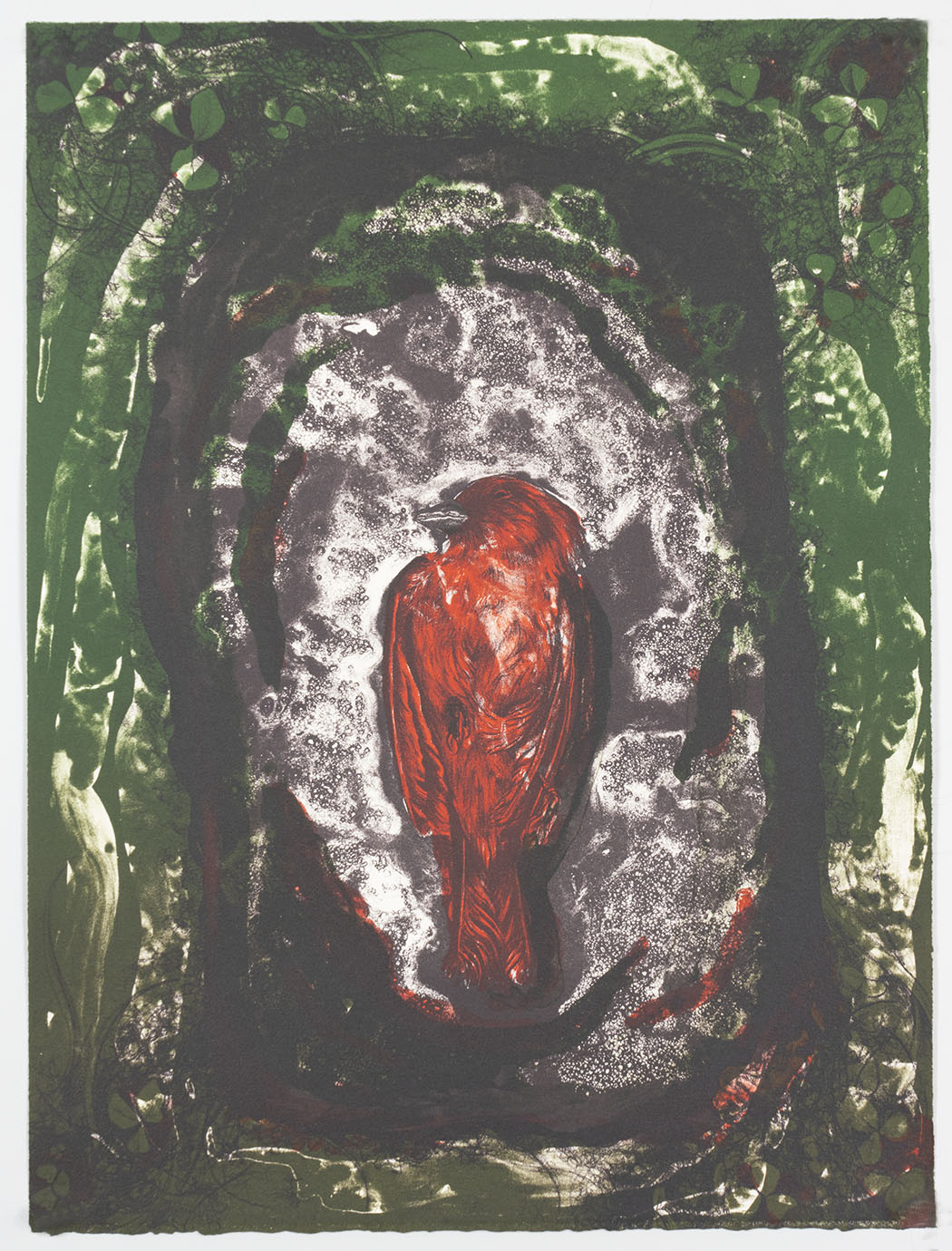 Alyssa Ebinger
Scarlet Tananger, 2019
Multi-color lithograph
20 x 15 inches
Edition of 15
Collaborating printer: Andrew Eckhardt
Sarah Plummer
Untitled, 2019
Multi-color lithograph
20 x 15 inches
Edition of 15
Collaborating printer: Irene Bedharczyk
Cynthia Juárez
Before the After, 2019
Multi-color lithograph
20 x 15 inches
Edition of 15
Collaborating printer: Alyssa Ebinger
Andrew Eckhardt
Untitled, 2019
Multi-color lithograph
20 x 15 inches
Edition of 15
Collaborating printer: Julie Bellavance
 Maggie Middleton
Samson + Delilah, 2019
Multi-color lithograph
15 x 20 inches
Edition of 15
Collaborating printer: Sarah Plummer
Contact Tamarind Institute