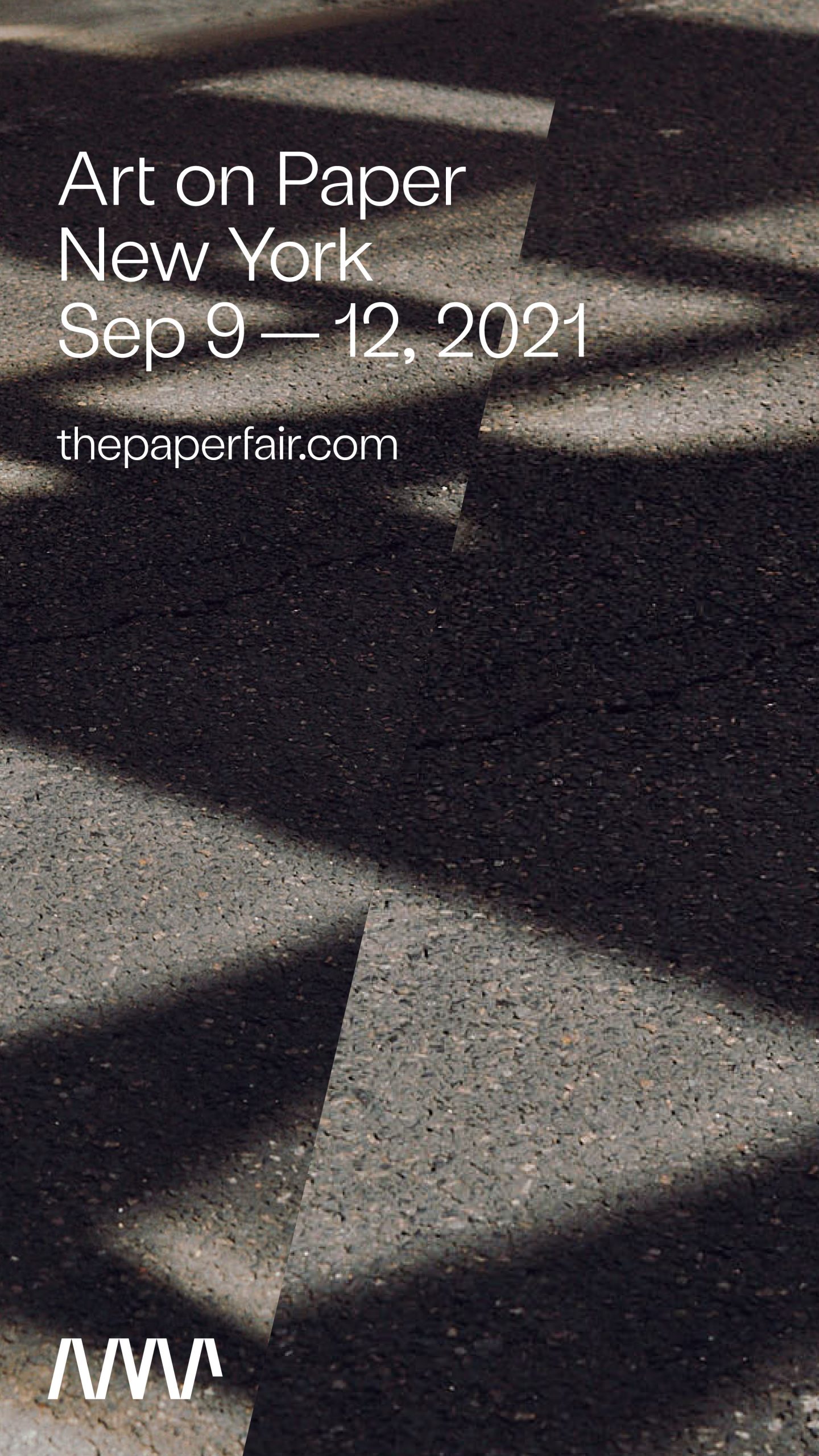 Art on Paper 2021
Pier 36 | 299 South Street
New York, NY 10002
Select VIP Preview
Thursday, September 9
5:00pm – 6:00pm
Opening Preview
Thursday, September 9
6:00pm — 9:00pm
Public Fair Hours
Friday, Sept. 10
11:00am — 7:00pm
Saturday, Sept. 11
11:00am — 7:00pm
Sunday, Sept. 12
12:00pm — 6:00pm
FOR IMMEDIATE RELEASE
August 27, 2021
Shelly Smith
Development and Marketing | Tamarind Institute
sjsmith@unm.edu | 505.453.2159
Tamarind Institute at
Art on Paper 2021, New York City
Albuquerque, NM – Tamarind Institute will feature three extraordinary artists at the 2021 Art on Paper fair being held at downtown Manhattan's Pier 36. Lithographs by Ellen Lesperance, Rose B. Simpson and Paula Wilson have been selected to represent Tamarind at Art on Paper which will run Thursday, September 9 through Sunday, September 12, in alignment with New York City's Arts week and The Armory Show. 
Lesperance, Simpson and Wilson each collaborated with Tamarind Master Printer and Workshop Manager Valpuri Remling, alongside Tamarind Apprentice Printer Alyssa Ebinger, during the last 18 months, bringing a unique subject matter to the medium of fine art lithography.
New Mexico-based interdisciplinary artist Paula Wilson challenges the fabled narrative of the western landscape from a new perspective, weaving together ideas from the viewpoint of a naturalist, educator, ecosexual, and contemporary artist of color. Rose B. Simpson, also New Mexico-based is a mixed-media artist working from her home at Santa Clara Pueblo, where she is rooted in the long tradition of Pueblo potters and the vibrant car culture of New Mexico. And from Portland, Oregon, Ellen Lesperance's work focuses on the close study of archival photographs of women-led protests, mapping out and recreating their sweaters and outerwear, especially those knitted during the Greenham Common Women's Peace Camp, an anti-nuclear weapons encampment in Berkshire, England (1981-2000).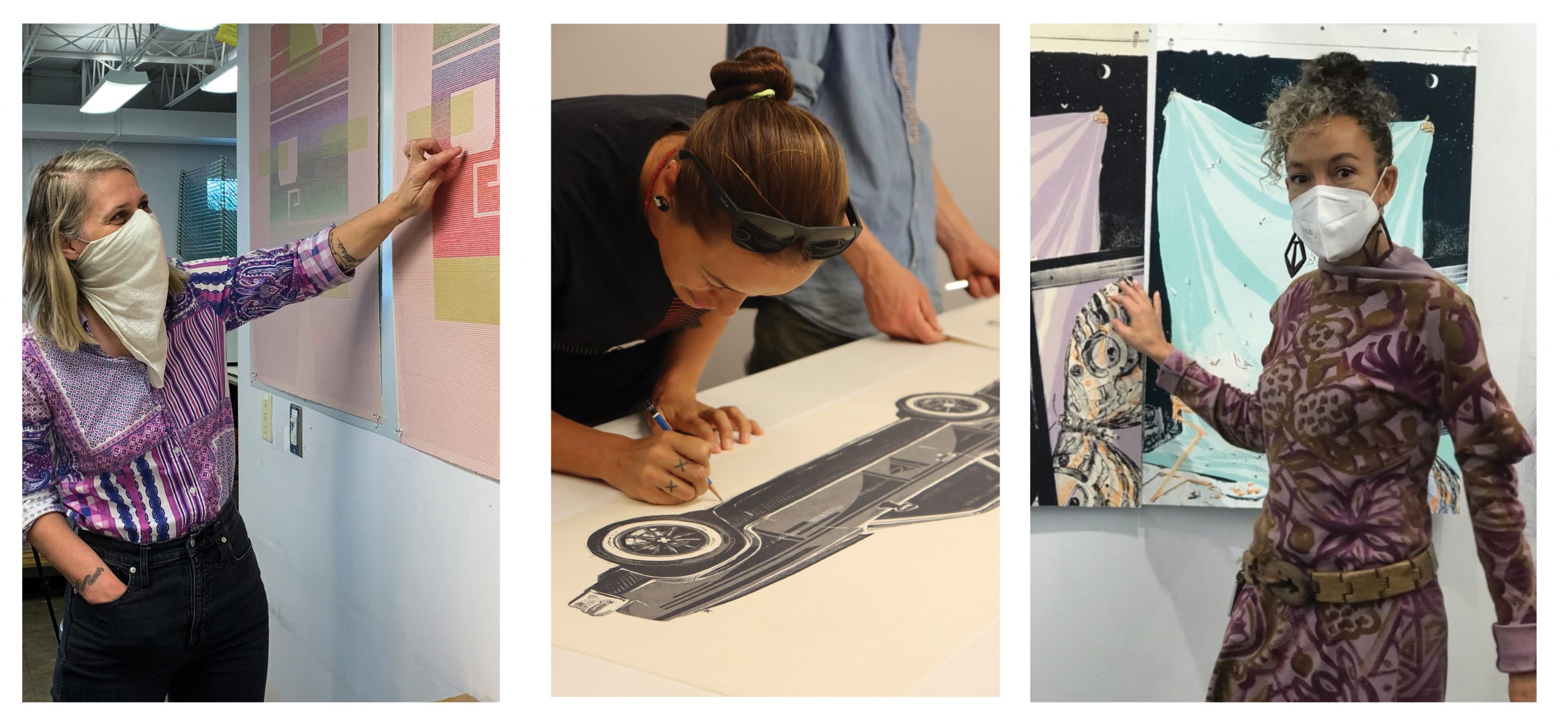 Ellen Lesperance, Rose B. Simpson, and Paula Wilson during their residencies.
Visitors to Tamarind's booth at the Art on Paper fair, known for its single-medium-driven focus, will be able to view work from all three of these unique and powerful artists, in line with the fair's touted "visual, experiential moments" that set Art on Paper apart as an important destination for the arts in New York City.
Ellen Lesperance
Ellen Lesperance arrived at Tamarind Institute in the summer of 2020 for the Frederick Hammersely Residency, amid widespread demonstrations, wildfires, and a global pandemic. She made the trip by car for the high desert adventure in collaborative printmaking, driving with her family from their home-base in Portland to Albuquerque for a four-week residency.
Her practice involves the close study of archival photographs of women-led protests, mapping out and recreating their sweaters and outerwear through gouache paintings and knitted objects; the research contributes to her exacting recreation of the protestors' garments, many of which were knitted during the Greenham Common Women's Peace Camp, an anti-nuclear weapons encampment in Berkshire, England (1981-2000).
Lesperance brings a new representation of the female body through the formal structure of American Symbol Craft, celebrating feminist activism and the enduring spirit of peaceful protest through a hand-drawn language of knitwear. Her renderings stand in for iconic and anonymous activists and warriors through time, with humanizing details called out in small embellishments, badges, pins and symbolic sweater patterns. Lesperance infuses the garments with a kind of quiet defiance, giving them the weight of a tribute.
During her residency Lesperance experimented with the interaction of color through multiple layers and explored lithography's capacity for both transparency and opacity. Each garment is based on a historic photo, and the titles reference this source material.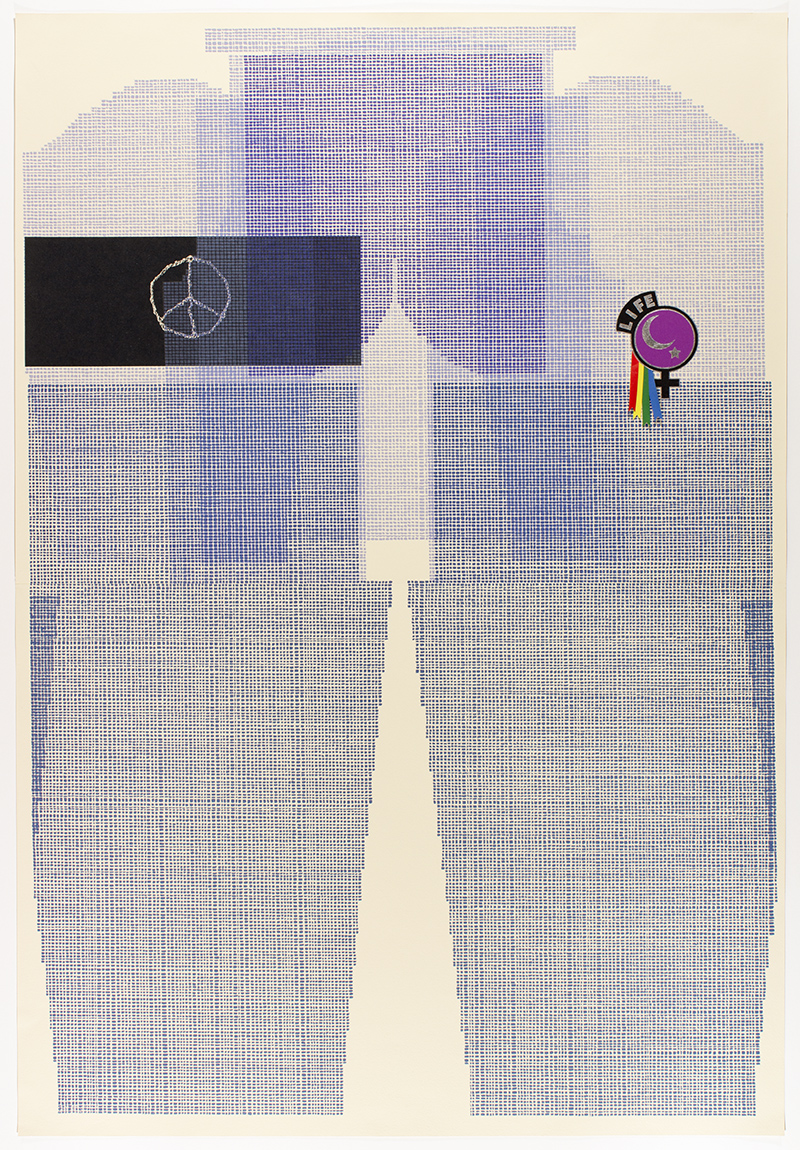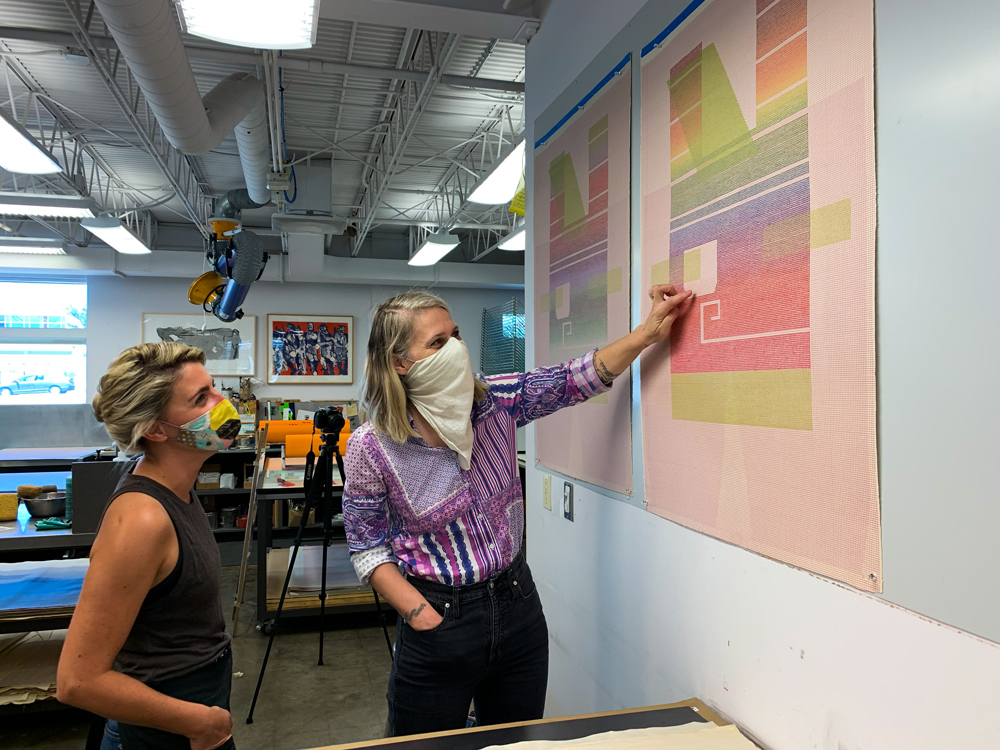 Ellen Lesperance
LIFE, 2020
Nine-color lithograph with chiné colle and silverleaf
Paper Size: 42 7/8 x 29 3/8 inches
Paper Type: Cream Arches Cover and Kitakata
Collaborating Printer: Valpuri Remling and Alyssa Ebinger
Edition of 15
$3,500.00
Ellen Lesperance with Tamarind Apprentice Printer Alyssa Ebinger.
Rose B. Simpson
Rose B. Simpson works across disciplines, engaging ceramic sculpture, metals, fashion, performance, music, installation, writing, custom cars, and printmaking. She received an MFA in Ceramics from Rhode Island School of Design (RISD) in 2011 and an MFA in Creative Non-Fiction from the Institute of American Indian Arts (IAIA) in 2018. Simpson is represented in museum collections across the country and exhibited internationally. Her work was part of the landmark exhibition organized by the Minneapolis Institute of Art, Hearts of Our People: Native Women Artists, the first major showcase of indigenous women artists from Canada and the United States.
Following her RISD program, Simpson returned home to New Mexico and enrolled in the Northern New Mexico College Automotive Science program. This unlikely move into car customization was in part to embrace the lowrider culture where she grew up, and also to master another technical skill. From the automotive shop in Española she restored a 1985 Chevy El Camino, transforming the common vehicle into a powerful symbolic entity known as Maria after the famed San Ildefonso Pueblo potter Maria Martinez (1887-1980). Simpson incorporated the classic black-on-black patterns of San Ildefonso pottery across Maria's exterior, honoring the Pueblo tradition and also marking a radical shift in the visual language of contemporary Native American art. Simpson explains, "I am paying homage to the back-and-forth ties of history and preservation and customization and recycling and inspiration and cultural integrity. Vessels such as the ones that Maria Martinez created are no longer in daily functional use for many Pueblo people, but vehicles are." Maria made its first appearance in 2014 at the Denver Art Museum, as part of a performance in which Simpson delivered the car flanked by a squad of post-apocalyptic Indigenous warriors, made up of people of indigenous and queer identities. The car's sound system played the sound of a human heart beating at full volume.
Simpson had her first residency at Tamarind Institute in 2021. Working alongside a team of Tamarind printers, she created two editions; one lithograph is a large-scale figurative image reminiscent of the towering androgynous forms of her ceramic sculpture (to be released later this fall), and the other lithograph is the iconic Maria, capturing both sides of the black automotive sculpture in a diptych. After working intensively to rebuild and customize the El Camino body, she realized in making the Maria lithograph that this was the first time she had actually drawn the car. The sleek rendering conveys the dramatic presence of the altered vehicle and all it signifies, and the immediacy of the drawing evokes the familiarity of a close family member.
Simpson is represented by Jessica Silverman Gallery in San Francisco, and Chiaroscuro Gallery in Santa Fe.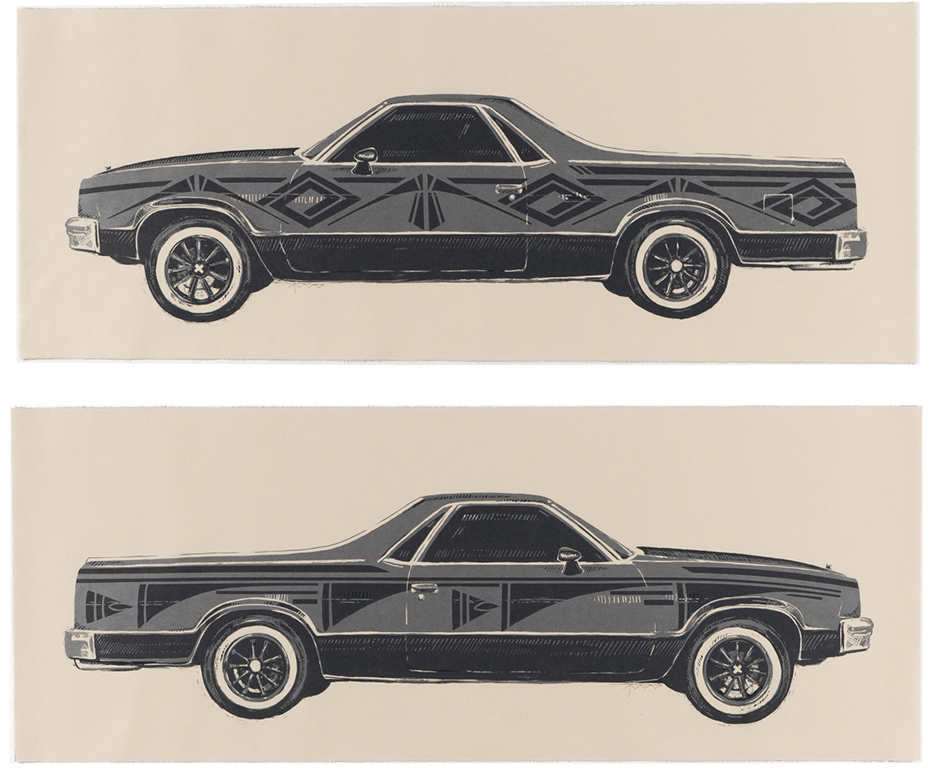 Rose B. Simpson
Maria, 2021
Two-color lithograph, diptych
Paper Size: 18 x 46 inches each panel
Paper Type: Okawara
Collaborating Printers: Valpuri Remling and Alyssa Ebinger
Edition of 30
$8,500.00 (only sold as a diptych)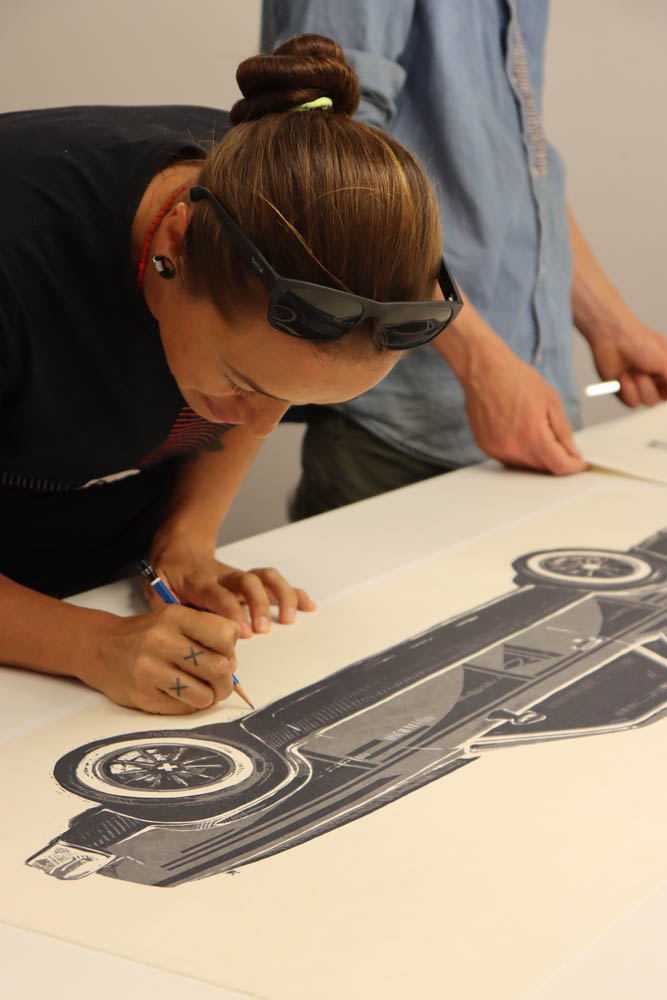 Rose B. Simpson signing her edition at Tamarind, 2021. 
Paula Wilson
Paula Wilson's 2021 residency at Tamarind produced a body of work that explores ideas of light, attraction, and the act of observing. At the center of this series of new lithographs is the Yucca Moth, the sole pollinator of the flowering Yucca plant, which together thrive in the dry climate of the desert southwest. Wilson constructs her narrative around the behavior and symbolism of the moth, playing with ideas of transformation, camouflage, and mutual attraction. In Catching the Light, Wilson sets up an imagined night performance of sorts, with a central figure based on her own likeness standing in the brilliant glow of a black light and holding a large sheet to catch the light and attract the moths. The illuminated scene imagines a dance between the light, the hovering moths, and the interaction of the female figure and the anonymous observer who is represented by a cell phone. The inclusion of the cell phone screen at lower right introduces another light source, while capturing the vibrant pattern of the moth's wings and extending the narrative off the frame of the printed image. The moth and the cell phone are central players in the edition Eye Spots, too, with a cropped female figure holding a cell phone up to the window to capture a moth that has landed on the pane as a hand-printed collaged paper object. In this rich play of observer and observed, camera eye and winged eye spots, Wilson creates a sense of longing for a connection to the natural world. Her Lepidoptera Collection, a series of five individually presented moths each detailed with its own imagined wing pattern, brings the formal study of insects and preservation of specimens into the dialogue. As in much of her work that considers the act of looking, these prints circle around how we see and how we respond to the natural world.
Wilson is an experienced printmaker who works in all forms of print, ranging from formal editions to unique printed textiles and installation. She received her BFA from Washington University in St Louis and her MFA from Columbia University in New York. Her work is in the collections of Yale University Art Gallery, Rubell Collection, Bowdoin College Museum of Art, The Fabric Workshop and Museum, The Studio Museum in Harlem, and the Albuquerque Museum. She has held artist residencies and lectured all over the world, and recently received the prestigious Hodder Fellowship from Princeton University's Lewis Center for the Arts. Wilson lives and works in Carrizozo, New Mexico where she is co-founder of the Carrizozo Artist in Residency (AIR).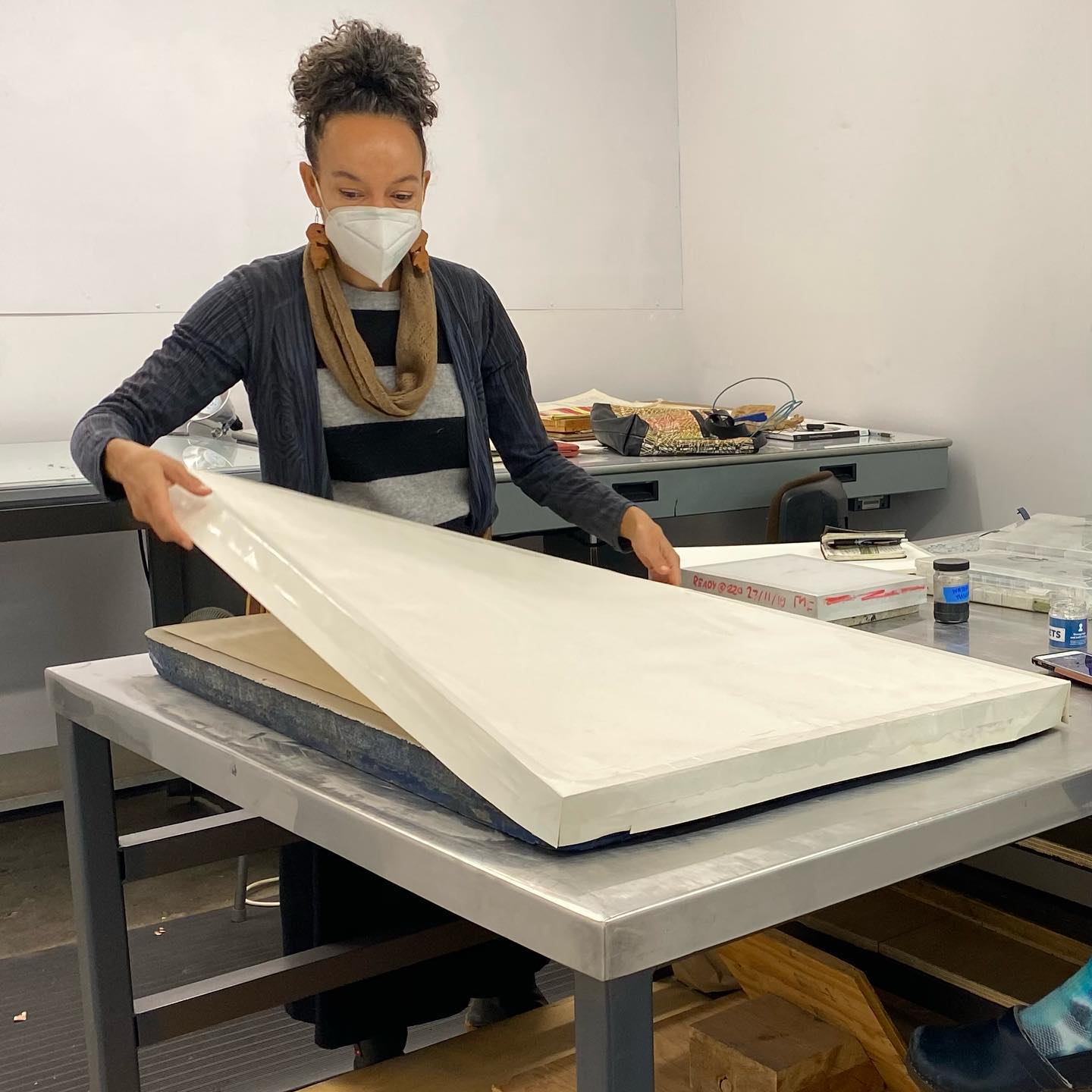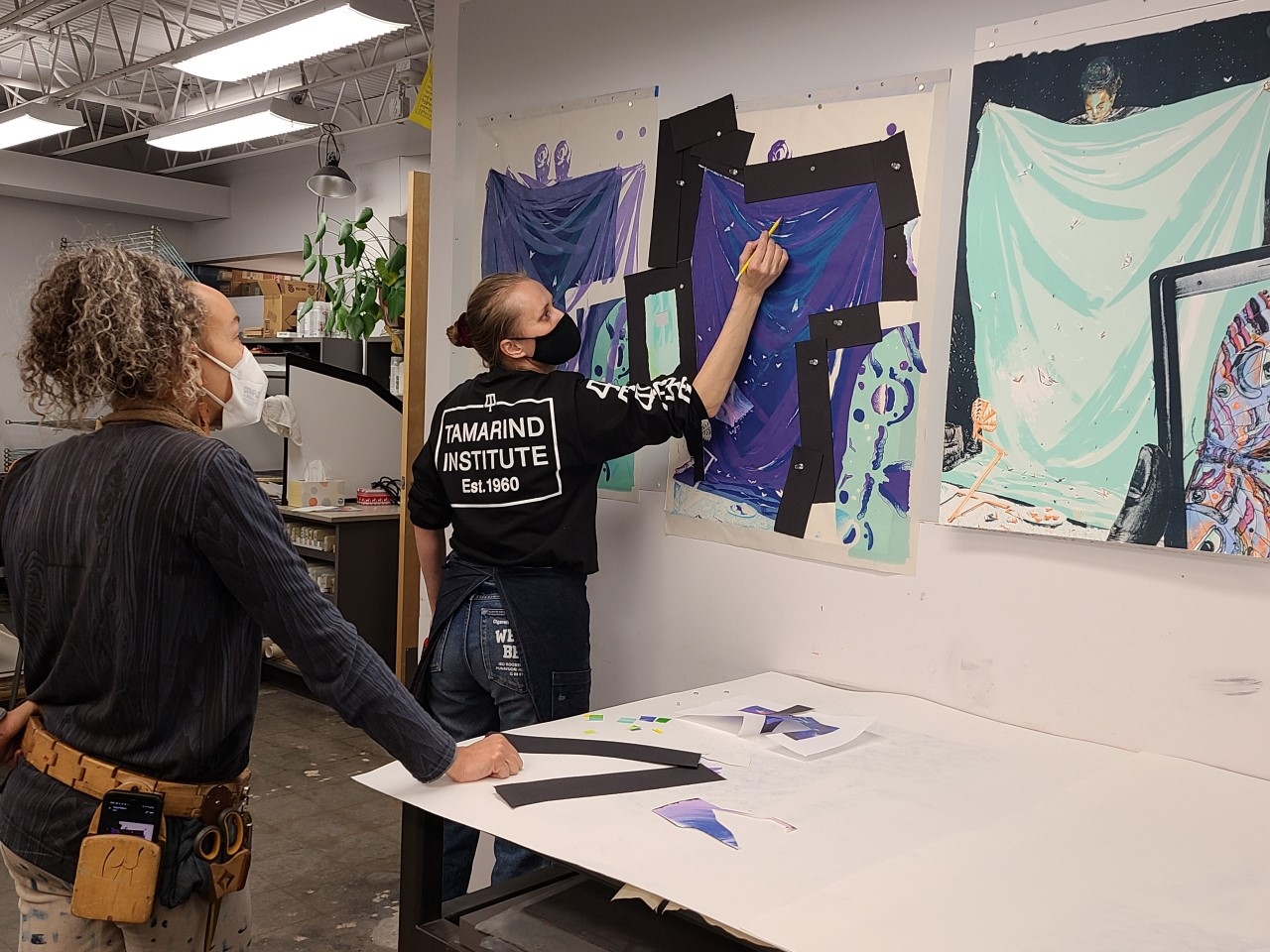 Paula Wilson at Tamarind Institute, 2020.
AMP Events
AMP Events is a creative events firm that designs, builds, promotes and produces important cultural experiences worldwide. Since 2011, AMP Events has produced art fairs that focus on a high quality and engaging fair experience by connecting collectors with galleries in the most optimal settings. AMP's current portfolio contains five major art fairs.
For more information about Art on Paper and AMP Events, please visit thepaperfair.com/.
Tamarind Institute
Tamarind Institute is an internationally recognized fine art lithography workshop affiliated with the College of Fine Arts at The University of New Mexico. Tamarind is dedicated to the preservation and advancement of lithography through education, research, exhibitions, and artist residencies, and is credited with introducing collaborative printmaking among contemporary artists around the world. Tamarind frequently sponsors programs with diverse populations, locally and internationally, benefitting University, Albuquerque, and New Mexico constituencies. For more information, call 505-277-3901, or email tamarind@unm.edu
Image Available Upon Request