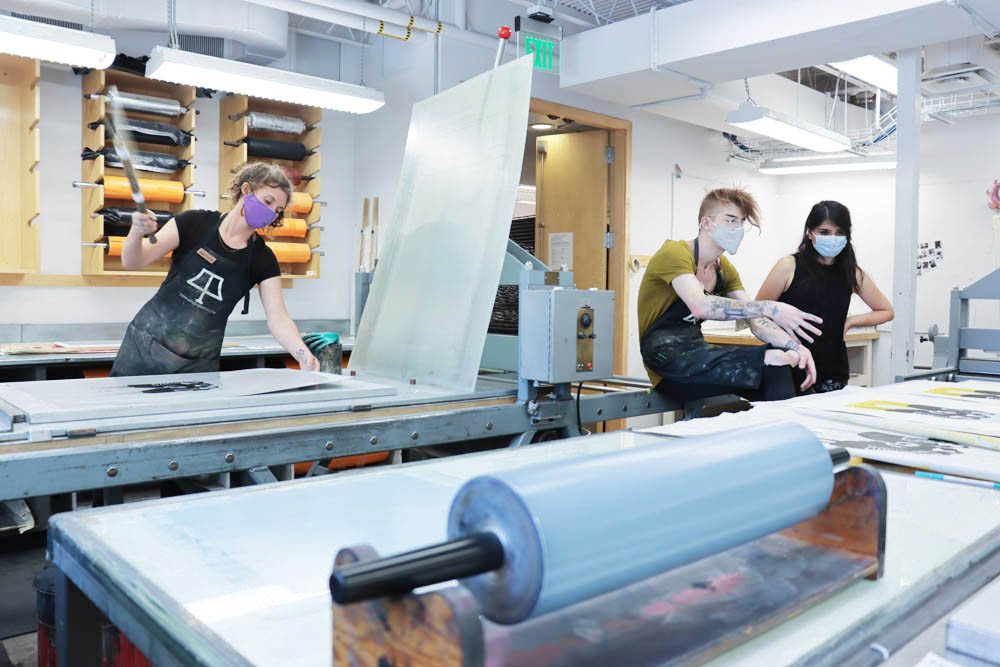 Tamarind Student Printer Lindsey Sigmon fans an aluminum plate as Student Printer Brian Wagner discusses options available to Tipping Points artist Zahra Marwan.
Albuquerque, NM – This fall Tamarind Institute will announce new lithographs by New Mexico artists Eric Garcia, Szu-Han Ho, Gaby Hernandez, Jane Lackey, and Zahra Marwan.
 The prints are the result of Tipping Points, a collaborative project between the City of Albuquerque and Tamarind Institute, with an aim to offer local artists the opportunity to advance their careers through an experience at Tamarind Institute with fine art lithography. With this goal in mind and pre-pandemic, Albuquerque Public Art Urban Enhancement, a division of the City of Albuquerque's Department of Arts and Culture, put out a public announcement seeking proposals from artists. Five artists were then selected from a very large pool of applicants by a committee of Public Arts Board members and Tamarind staff. The five chosen, were artists considered best poised to benefit from expanding their practice to include collaborative printmaking, specifically at Tamarind Institute.
For many artists, the opportunity to collaborate with Tamarind's highly skilled printers yields new thinking about their creative practice and builds new international audiences for their work, essentially tipping local professional artists into the next phase of their career and into new markets.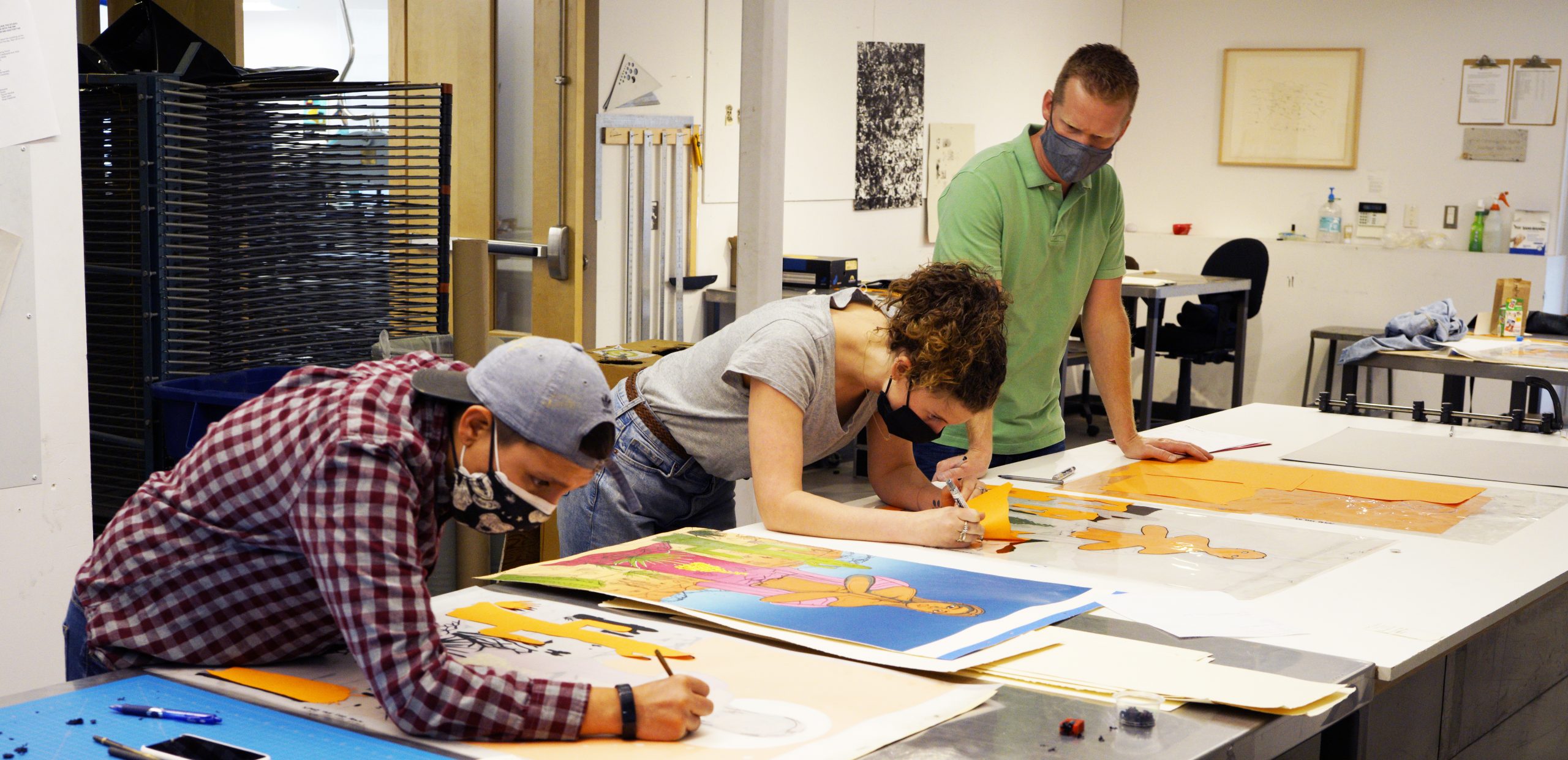 Tipping Points Artist Gaby Hernandez with Tamarind Student Printer Lindsey Ingram and Tamarind Master Printer and Education Director Brandon Gunn.
 ­­­­­­The project was scheduled to run through the Spring of 2021, and though the pandemic caused some hurdles, each artist was able to complete a two-week workshop residency. During the workshop residency, each Tipping Points artist made one lithograph in collaboration with Tamarind student printers, under the supervision and guidance of Tamarind Master Printer and Education Director Brandon Gunn.
The resulting portfolio of five prints will become part of the City of Albuquerque Public Art Collection, Tamarind's own in-house archive, and the formal Tamarind Archive, housed at the University of New Mexico Art Museum. In addition, all five prints will be available for purchase through Tamarind Institute at tamarind.unm.edu.
 A video about the project, including artist interviews and images of the resulting lithographs, will be released this fall. The video highlights each artist's experience at Tamarind and their chosen subject matter. Tipping Points artist Eric Garcia created a lithograph honoring his recently-deceased cousin and as a reminder to viewers of New Mexico traditions which are on the brink of being lost. When asked what Garcia will take away from the project he said, "I'll take away a new partnership with Tamarind; I'll take away a friendship with [Tamarind student printer] Austin Armstrong; I'll take away six new prints; I'll take away an experience that not many people get. To be frank, not many people in Albuquerque understand what Tamarind is — a world-renowned institution, and not everyone gets to step into here and make art—it's a precious thing and I won't take that for granted."
Eric J. Garcia
Eric J. Garcia blends history, contemporary themes and a graphic style to create politically charged art that reaches beyond aesthetics. Using installations, murals, hand printed posters and his controversial political cartoons, he aims to challenge his viewers to question sources of power and the whitewashing of history. Born and raised in Burque's South Valley, Garcia received his BFA with a minor in Chicano studies from the University of New Mexico, then went on to receive his MFA at the School of the Art Institute of Chicago. He is a core member of the printmaking collective, Instituto Gráfico de Chicago and a new member of the Justseeds Cooperative. More
Gaby Hernández
Gaby Hernández (they) is a queer non-binary immigrant artist and community organizer from Ciudad Juarez, Mexico who migrated to the United States at the age of seven. Their passion for social justice is rooted in their own and their communities' experiences navigating systemic barriers in healthcare access, immigration status, and economic disparities. As an artist and community organizer, they aim to use art to shift culture and build community. More
Szu-Han Ho
Szu-Han Ho's work in performance, sound, and installation explores the relationship between bodies and sites of memory. She often works collaboratively, through collective action, structured improvisation, and group composition. Recent projects include Migrant Songs, a choral performance art piece incorporating stories and songs of human and nonhuman migration; Border To Baghdad, an exchange between artists from the US-Mexico border and Baghdad, Iraq; and Shelter in Place, a sculptural installation and performance inspired by her family's history in Taiwan. Szu-Han has lived in Albuquerque for ten years and has had a deep connection through family ties in New Mexico for much longer. She is currently an associate professor in Art & Ecology in the Department of Art at the University of New Mexico. More
Jane Lackey
Jane Lackey's works on paper map intersecting lines and shapes that converge to articulate topographies of sequenced, frenetic relationships. These drawings reveal hidden forces of human nature that are felt and rendered through material sensations, marks and patterns. Informed by her life-long affinity to cloth textiles and the interlacement of threads, her drawings and installations investigate the connective tissue of human communication.  Lackey has lived in Santa Fe, New Mexico since 2009. Her works on paper and installations have been included in solo and group exhibitions at 516 ARTS and Central Features in Albuquerque and at Center for Contemporary Art and New Mexico Museum of Art in Santa Fe. Her artworks have been shown extensively throughout the United States and abroad. Numerous artist grants and residencies have supported her art projects including the Japan-US Friendship Commission/ National Endowment for the Arts, Creative Artist Exchange Fellowship in 2011. Lackey's work is in the permanent collections of The Detroit Art Institute, Cranbrook Art Museum, The Wellcome Trust Collection (London), Kent State University's James A Michener Collection among other public and private collections. Lackey was Artist-in-Residence, Head of Fiber at Cranbrook Academy of Art, 1997-2007 and was Contributing Faculty at Santa Fe University of Art and Design, 2011-2017. More
Zahra Marwan
Zahra Marwan grew up in two deserts which vary drastically and have many similarities in culture. One close to the sea, the other close to the mountains. She studied the visual arts in France, and continues various pursuits to further educate herself. She currently lives in the Barelas neighborhood of Albuquerque, New Mexico, and works in her studio at the Harwood Art Center, where she incorporates Kuwaiti tendencies into her daily life. She has so many projects to feel proud of including creating work for the National Hispanic Cultural Center, the National Institute of Flamenco Arts, and being part of the City of Albuquerque and Bernalillo County Public Art Collections. More
Summary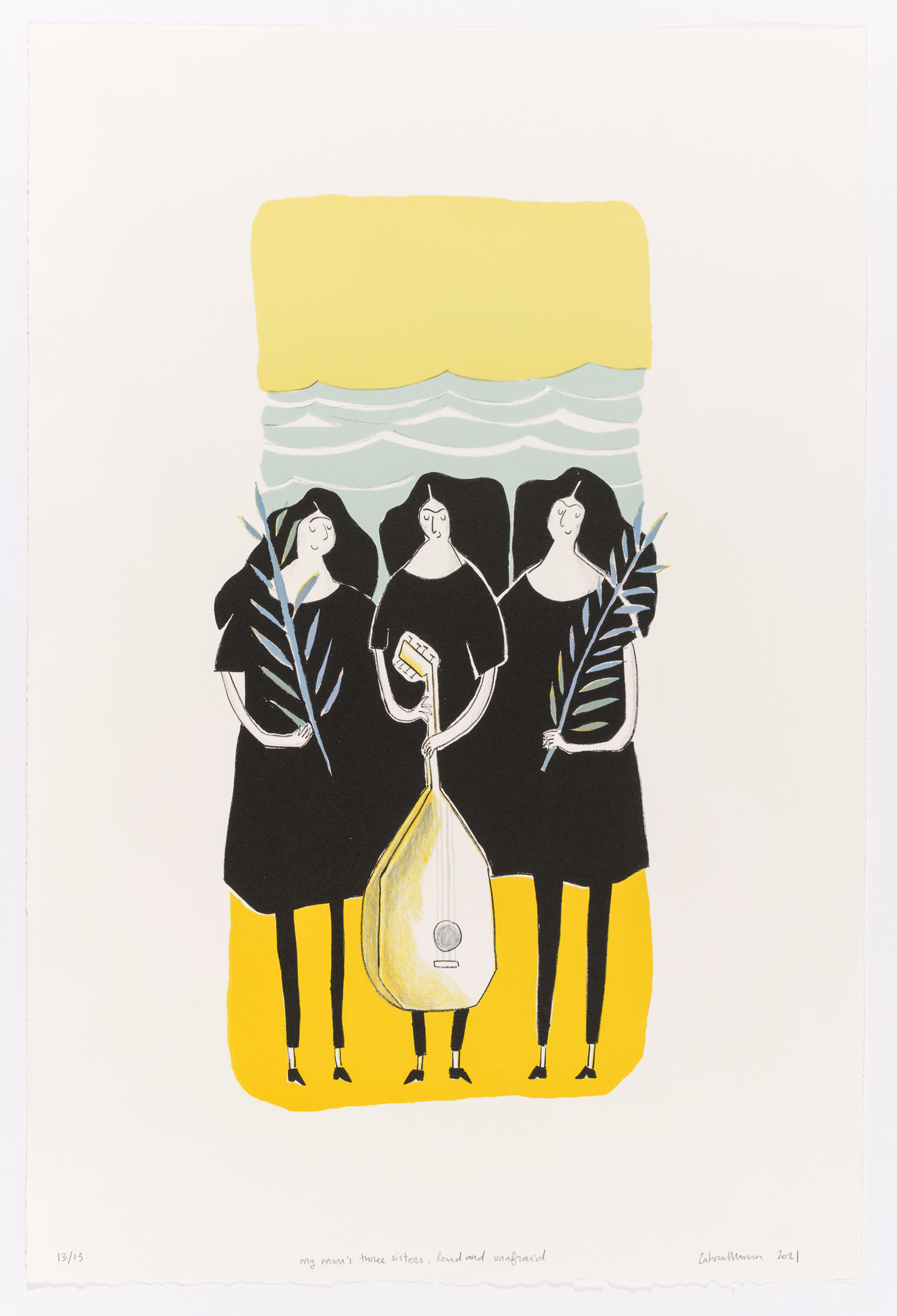 Article Name
New Releases by Tipping Points Artists
Description
– Tamarind Institute announces new lithographs by local artists Eric Garcia, Szu-Han Ho, Gabby Hernandez, Jane Lackey, and Zahra Marwan.
Author
Publisher Name
Publisher Logo