Please join Maja Ruznic at The Harwood Museum of Art for an Artist Talk on April 22, 5:30 PM MT — Details at harwoodmuseum.org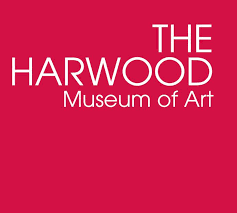 FOR IMMEDIATE RELEASE: August 21st, 2020
Media Contact: Nicole Dial-Kay, Curator of Exhibitions and Collections, Harwood Museum of Art; ndialkay@unm.edu; (575) 758-9826 ext. 110
THE HARWOOD MUSEUM OF ART ANNOUNCES THE SPRING 2021 EXHIBITION
IN THE SLIVER OF THE SUN: MAJA RUZNIC
TAOS, N.M.—The Harwood Museum of Art is pleased to announce its spring 2021 exhibition of In the Sliver of the Sun with artist Maja Ruznic. This will be the first museum exhibit for Ruznic, whose show at Conduit Gallery (Dallas, Texas) was just reviewed in the July/August 2020 issue of Artforum. In the Sliver of the Sun will be exhibited from March 6 through September 26, 2021 in the Peter & Madeleine Martin Gallery.
In his review for Artforum, Matthew Bourbon writes, "Everything appears to be in a state of constant and inevitable change in the exquisite paintings of Maja Ruznic. A range of mark-making methodologies leaves the images wraithlike, insinuating echoes of ideas. Ruznic stains her work with Gamsol-saturated pigments such that nebulous pools of paint fade in and out, sometimes disappearing into the weave of the canvas. The look is reminiscent of a watercolor bloom. The artist does not, however, rely on this procedure; it is only a beginning.
She then examines the results of her incidental color placements and nimbly pulls form from the foggy washes. The paintings come alive with the assuredness of her hand drawing figures out of the canvas, outlining a foot or a rudimentary face. In loose, dreamy groupings, Ruznic's aqueous humans overlap, sit side by side, or diaphanously mesh into singular beings."
In the Sliver of the Sun includes a painting of Ruznic's father whom she has never met. Called 'Trace of the Father' the painting is barely a portrait, the figure disintegrated. Ruznic started creating 'The Painters and Their Daughter' when she found out she was carrying her first child. She credits her pregnant body as illuminating this entire series of paintings. An athlete and runner, Ruznic has been taking long walks during her pregnancy, and engages in contemplative practice before beginning her artistic process. Her current paintings were created with a soft palette, and emanate a mild tone that contrasts with the intensity of her earlier body of work.
"I feel the colors and the way I'm applying the paint, is acting as a kind of ointment for me –it isn't intentional, it's intuitive," said Ruznic. "There's a lot of gentleness in the new body of work, especially in the three paintings titled 'The Painters and Their Daughter.' The three figures are all intertwined, kind of like cats."
Born in 1983 in the small town of Orašje in Bosnia and Herzegovina, Ruznic fled with her family as a girl to escape the ethnic cleansing taking place in her home country. They lived in refugee camps in Croatia, Austria and Germany for a few years, before immigrating to the United States and settling in San Francisco in 1995. Ruznic went on to study art and psychology at the University of California, Berkeley, later receiving an MFA from the California College of Arts. She has exhibited internationally and her work has been written about extensively, most notably in ArtMaze Magazine, Juxtapoz, San Francisco Bay Guardian, Studio Visit Magazine, and twice in New American Paintings, including the cover as selected by curator Anne Ellegood. Ruznic lives and works in Roswell, New Mexico.
The title for In the Sliver of the Sun came to Ruznic as she watched her cat seek out sun-drenched shafts of light for her naps. She considered what the sun was providing –a sense of comfort, warmth and relaxation.
"I think all of the figures I've been painting the last few months are looking for a sliver of the sun," said Ruznic.  In a statement about her recent body of work, Ruznic remarks: "Like the first scream of a baby leaving it's mother's body, the diasporic wail is fora return that will never happen. It is nature's way of spitting you out: war, genocide, ethnic cleansing–spitting you out of whatever it was that was home–so you're left wondering and your soul is left wondering and your children's children's souls are left wondering –in search of that sliver of the sun. The search for that sliver is the reclaiming itself. The reclaiming of scattered pieces of identity." 
This exhibition is made possible in part by Heritage Hotels & Resorts and supporters of the Harwood Museum Alliance Online Auction. Special thanks to: Karma Gallery, Hales Gallery and Conduit Gallery. Located at 238 Ledoux Street in Taos, The Harwood Museum of Art "brings Taos arts to the world and world arts to Taos." Call (575) 758-9826 or visit harwoodmuseum.org for more information.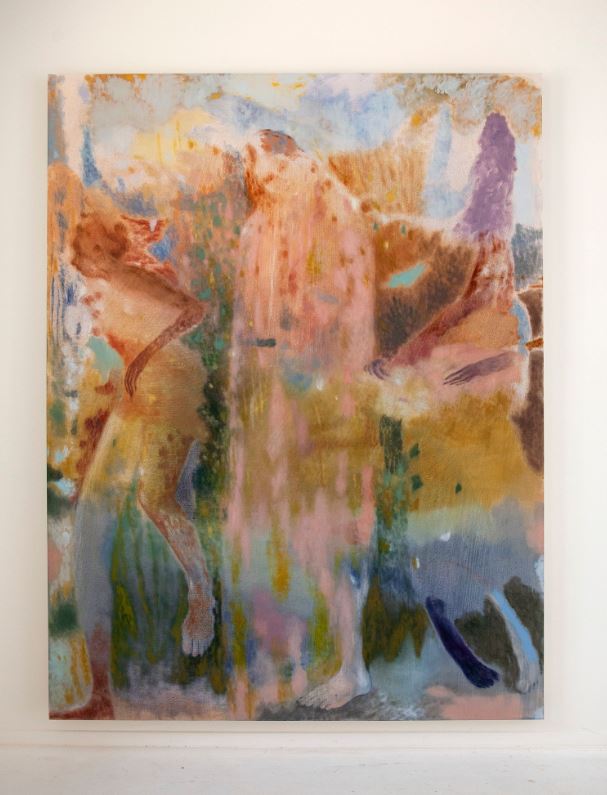 Maja Ruznic, The Return, 2020, 100" h x 76"l, oil on canvas. Courtesy of the Artist and Conduit Gallery. Collection of Marguerite Steed Hoffman.