Dear Tamarind Friends,
For the next several weeks, Tamarind will be operating virtually. We will follow the same precautions instated by The University of New Mexico, and the same social distancing practiced by many of you who are also working from home. The Tamarind gallery remains closed to the public through April 6. During this time you may contact us by email at tamarind@unm.edu, online at tamarind.unm.edu, or via social media.
Please join us online for inspiration, education, amusement, and a bit of community. Our newly designed website encompasses educational videos on lithography, and documentary short video profiles collected over the past several years from our student printers. Browse the flat files and discover an overlooked gem, or read up on new releases by recent guest artists. You can now peruse and purchase online from our complete print inventory. Let us know what is on your mind, and what we can share in the way of distraction and solace from Tamarind's vast archive.
Stay healthy, and for the short term anyway, enjoy the pause.
Diana Gaston
Director, Tamarind Institute
---
BROWSE
Peruse our inventory in a recently-updated site created for your browsing enjoyment. Not sure where to start? Here are a few prints to jump-start your browsing experience of our vast inventory and archives. Please contact us at tamarind@unm.edu with any questions. You may continue to purchase prints online via our secure payment link.
---
READ
Tamarind has created several mini-catalogues with interviews or essays about artists. Three online-catalogues highlight Frederick Hammersley Artist Residencies held by Matthew Shlian, Luke DuBois, and Danielle Orchard. Click below to see all of Tamarind's mini-catalogues.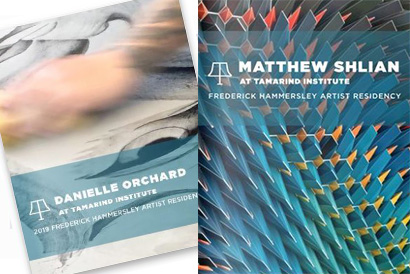 ---
LEARN
Get cozy with five how-to videos produced by Tamarind Institute in 2018, narrated by Tamarind Master Printer and Education Director Brandon Gunn. Click below to find all five: Blend Roll, Drawing Materials, Etching, Graining, and Chine-collé.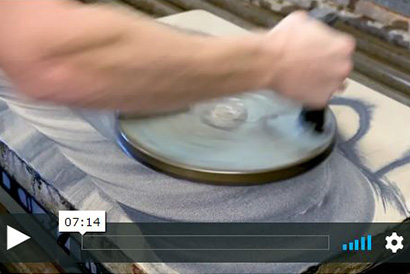 ---
MEET
Meet Tamarind students who come from around the world to participate in our training programs. One-minute videos on each of our students can be found by clicking the images below.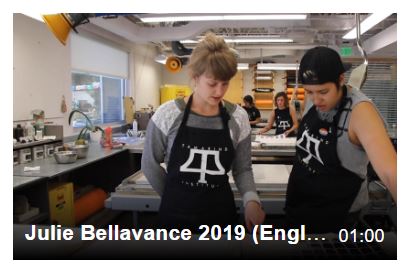 ---
KEEP IN TOUCH
The gallery space is closed, but we're still around to answer questions, assist with purchases, and provide whatever help we can.
Contact Tamarind Institute