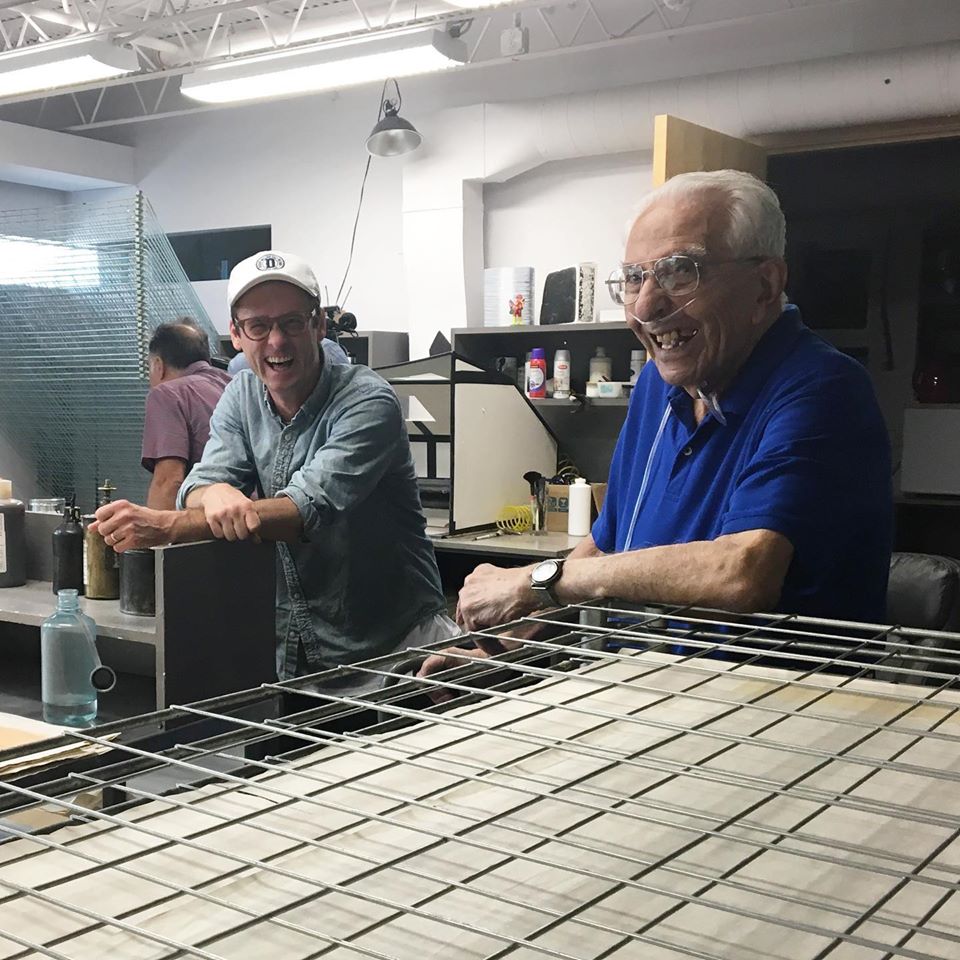 We're taking a deeper look into individual prints in our archive, bringing different voices from the institute into play. This week we're diving into Ian Davis' print Black Balloons, 2017 (17-324).
"We loved working with Ian. He is a lot of fun to be around, hard worker, loves detail…Our core values in the shop! I know making this print wasn't easy for Ian, he had to think in layers, draw more than he had ever drawn before in a period of two weeks. I think that was the only other time before Judy Chicago that an artist used a Rapidograph pen on a mylar and didn't lose their mind. He is a pretty good DJ too, I have to admit.
At one point, (spoiler alert: too late) we got the idea of making this print into a repeated pattern. I am literally laughing out loud writing this right now and thinking back to those days of us staring at each other, then at the computer, doing all the physical cutting and rearranging. We did everything we knew how to, but the drawing was too far ahead at that point for the pattern to work. Well, next time!
We didn't end up making too many variations of this while color trial proofing. We tried various shoe colors, and pant shades and decided to add that offset red for the edge of the balloons. Most of our time was spent trying to LOOK at each and every little man and balloon, to see if they were all looking good. When you see this print in person, count the balloons (and the men), and find the one with a unique…
Well, I'll leave that for you to figure out.
We were proofing the balloons one Saturday when Garo Antreasian came through with his film crew. They were making a movie about him. It's always such a pleasure to have him in the shop. Him and Ian hit it off immediately, they were chatting like old friends (common with Garo). Turns out, they are both from Indiana! Later that year, Ian and I had a chance to go see Garo's show in LA, in a gallery not far from Ian's house."
– Valpuri Remling, Master Printer/Workshop Manager