Michelle Stuart
b. 1933, Los Angeles, California; lives in New York, New York, and Carpenteria, California
---
More information about the artist
Multidisciplinary artist Michelle Stuart has worked for decades to capture the traces, surfaces, and history of the land. Unlike many earthwork artists of her generation, Stuart doesn't alter the sites she works with. Her interactions with the landscape are temporary, captured in photographic documentation, rubbings, and relic samples of rocks and minerals. She grew up in Los Angeles, where her engagement with the landscape and mapping took root. After studying at Chouinard Art Institute in the 1950s, she continued her studies in Mexico, France, and New York, and worked as a mapmaker for the U.S. Army Corps of Engineers. Her practice of working with collected organic materials and making notes about the composition of the land is informed by her early work in archaeology and cartography.
When Clinton Adams invited Stuart to come to Albuquerque in 1974 for an artist residency, she was primarily interested in the workshop's location in the desert Southwest, and she scheduled her residency to coincide with the winter ceremonial dances at the Pueblos. Her notes from this residency describe the geography of the region, Native American history, and folklore, all of which contribute to the prints she made at Tamarind.
The series of five prints that comprise the Tsikomo suite refer to the highest peak in the Jemez mountain range, considered a spiritual center of the region. She initially proposed embossing the paper by running rocks through the press, but the printers worked with her to find alternatives to capture the texture of the landscape. She created an embossed surface texture with a raised metal plate, and each sheet of paper was torn to a template to give the appearance of handmade paper. The central work in the series, Okuping, captures the unique light of New Mexico by printing the sheets on both sides, and allowing the brilliant colors on the underside to cast a subtle glow of color on the surface of the print. This collaboration at Tamarind was Stuart's first exploration of printmaking.
Stuart is represented in museum collections worldwide including Museum of Modern Art, New York; Art Institute of Chicago; Moderna Museet, Sweden; Museum of Contemporary Art, Australia; San Francisco Museum of Modern Art; Brooklyn Museum; and Tate Gallery, England.
Posts about Michelle Stuart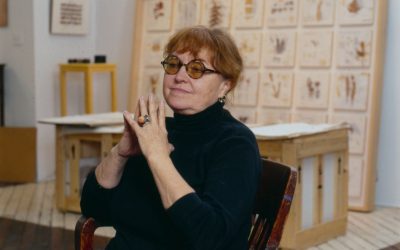 Since the 1960s, Michelle Stuart has developed a body of work grounded in environmental, astronomical and archeological references. She has often experimented with non-traditional materials: works such as Sayreville Strata Quartet (1976) were made by pulverising and imprinting soil and rock from an abandoned brick quarry on paper panels by hand. In more recent works, she has revisited photographs and objects in her archive, creating gridded vignettes of the land and space. Early in her career, she worked as a topological draftsperson for the US Army Corps of Engineers, following in the footsteps of her father, who mapped water lines.
read more