Tamarind Institute is a unique center for printmaking and collaboration, providing the only training program of its kind in the world. The workshop operates as a division of the College of Fine Arts, and raises a large part of its operating budget through grants, print sales, memberships, and donations. Charitable tax-deductible gifts support many of our educational programs and special projects. Gifts may be directed in full to these three funds, or a combination thereof.
Tamarind Institute Director's Fund
The Tamarind Institute Director's Fund was established in 2017 to provide the director, Diana Gaston, with funds to further the educational reach and artistic mission of Tamarind Institute.
The General Fund
This fund supports core programs at Tamarind Institute including artist residencies, supplies and travel for students, workshop equipment, capital improvements, and special projects.
Marjorie L. Devon Tamarind Scholarship
The Marjorie L. Devon Tamarind Scholarship Fund was created to honor Tamarind's director for thirty years (1985-2015). This fund supports students enrolled in Tamarind's one-year Printer Training Program, with a special interest in encouraging international students to participate in the program.
Our supporters receive exclusive invitations to events, including previews of new releases, and artist receptions. And, donors who contribute $5,000 or more may have their names engraved in Bavarian limestone on our donor wall at the entrance to Tamarind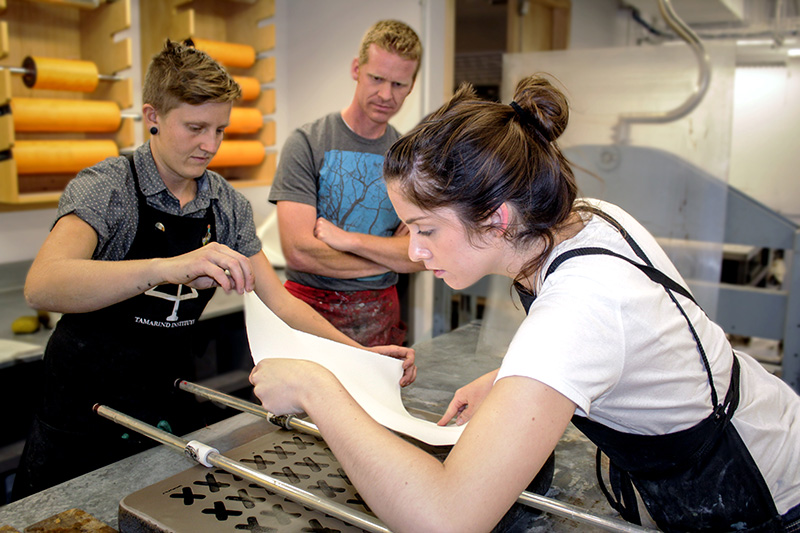 Ways to Give
Call (505) 277-3901 and speak with our Director, Diana Gaston
Donate online
Mail a check with your contact information to:
Tamarind Institute, c/o Director Diana Gaston
2500 Central Avenue SE
Albuquerque, NM 87106.