Tamarind Staff & Advisory Board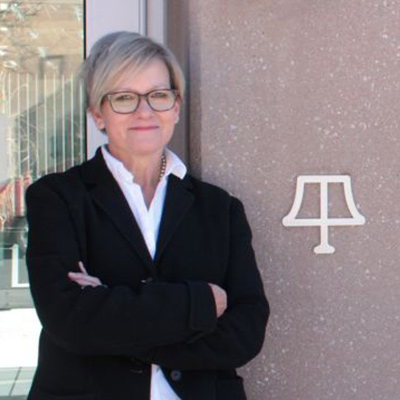 DIANA GASTON
Director
Diana Gaston joined the staff as Tamarind's fourth director in January 2016. Previously, she was the lead curator for the Fidelity Investments Corporate Art Collection, based in Boston.
Diana has a comprehensive knowledge of Tamarind's vast archives housed at the University of New Mexico Art Museum, where she was curator of prints & photographs from 1989-1993. Subsequently, she held positions as curator at the Museum of Photographic Arts in San Diego, and associate director of San Francisco Camerawork.She received both her B.A. (1985) and M.A. (1988) in Art History from the University of Kansas in Lawrence, Kansas, where she focused on postwar American photography and contemporary works on paper.
Her early training included the museum studies program at the National Museum of American Art, Smithsonian Institution in Washington, D.C., and a National Endowment for the Arts curatorial internship at the Walker Art Center in Minneapolis. She has authored numerous catalogue essays, reviews, and articles for magazine such as Art on Paper, Aperture, Art New England, and Art in America.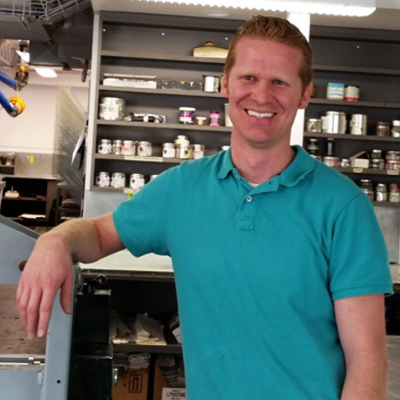 BRANDON GUNN
Tamarind Master Printer & Director of Education
Professor of Practice

Brandon J. Gunn joined the Tamarind staff in January 2016 as the Director of Education. Gunn is originally from Orem, Utah.
More Information on Brandon Gunn
After receiving a Masters degree in Printmaking at Illinois State University in 2006 and the Tamarind Master Printer Certificate in 2008, he began teaching full time, in addition to producing his own artwork, printing collaboratively, and constructing leather rollers. Gunn has considerable experience as a collaborative printer and educator, and is extremely knowledgeable in traditional and modern lithography, intaglio, woodcut, and digital printing techniques. He has taught undergraduate and graduate level courses at Santa Fe Community College, Concordia University in Montreal, Brigham Young University Idaho, and Indiana University in Bloomington. He has also printed at Normal Editions Workshop, Stinger Editions, and for Indiana University's visiting artist program. Gunn is responsible for the internationally recognized Tamarind Professional Printer Training Program and the intensive Summer Workshop. He also regularly conducts external workshops and presentations, researches new materials and techniques, and consults with educational institutions, workshops and suppliers in the field.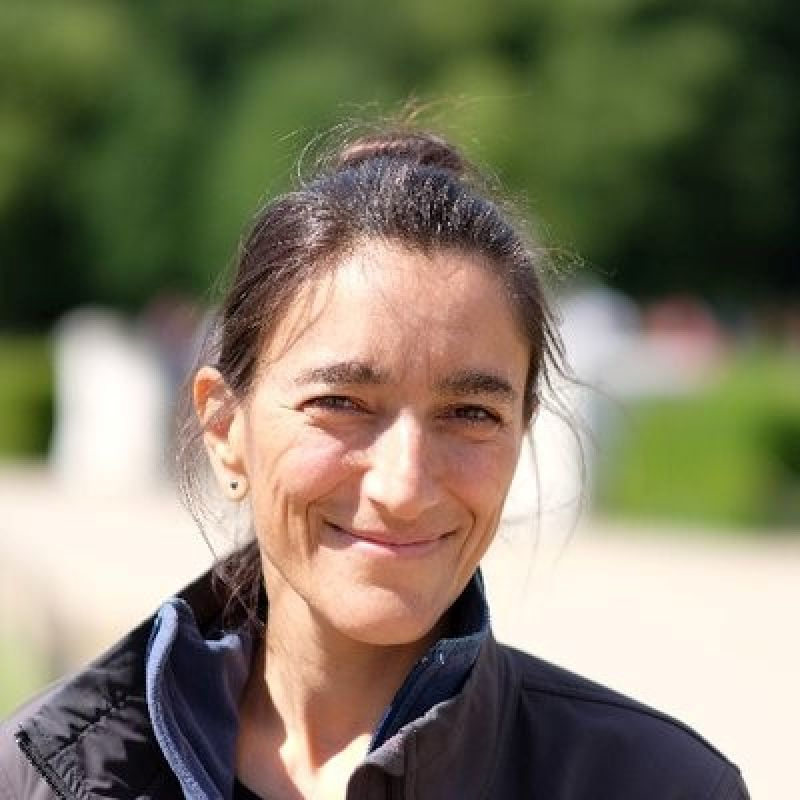 EVA LIPTON-ORMAND
Business Manager
German-American writer and holistic healthcare practitioner, Eva Lipton-Ormand has worked at UNM since 2004  for programs such as the Institute for Medieval Studies, the Taos Summer Writers' Conference, and the Robb Trust.  
More Info on Eva Lipton-Ormand
Other programs she has been involved with include the D.H. Lawrence Ranch Initiatives, where she helped develop the Rananim online writing program. She holds a master's degree in theater, film and television studies as well as English and German Literature from the University of Cologne. At Tamarind, Eva helps manage finance and daily operations.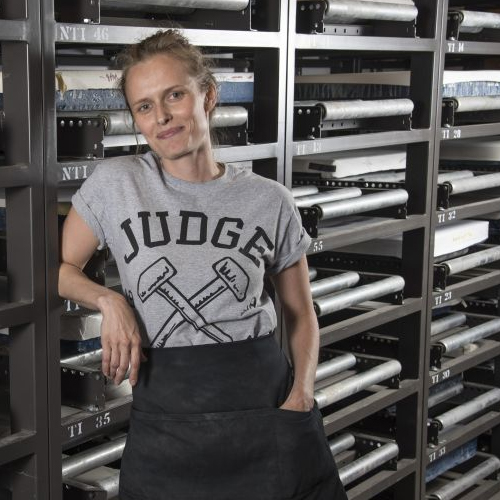 VALPURI REMLING
Tamarind Master Printer & Workshop Manager
Valpuri Remling hails from Rovaniemi, Finnish Lapland. After receiving her MFA in printmaking from the Finnish Academy of Fine Arts, Valpuri studied at Tamarind Institute and received her Tamarind Master Printer certificate in 2009.
More Information on Valpuri Remling
Following her training at Tamarind, she returned to Helsinki and Helsinki Litho, becoming co-owner of the workshop, while also teaching lithography at the University of the Arts, Helsinki, in the Academy of Fine Arts printmaking program. After an extensive international search, Remling was appointed the Master Printer and Workshop Manager of Tamarind Institute in 2015. 
Her role includes collaborations with visiting artists, managing multiple publishing projects, advising other workshops and manufacturing entities on best practices in lithography, and leading research in advances in lithographic techniques. Every year she directs the research of Tamarind apprentice printers and mentors the next generation of master printers.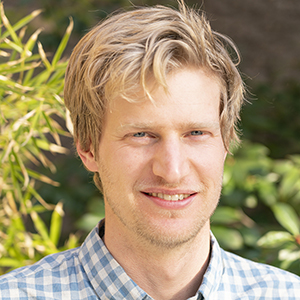 BEN SCHOENBURG
Curator
Ben Schoenburg became the curator at Tamarind in February 2020. He inspects and prepares the editions for signing, and documents the details of each edition for our records. As part of his role at Tamarind he provides instruction in collection care and proper documentation.
More Info on Ben Schoenburg
Schoenburg completed Tamarind's Printer Training Program in 2018 as part of a larger goal to obtain an MFA combining study at Tamarind and UNM's College of Fine Arts. During this time he began a work-study position assisting then-curator Anne Slattery, which prepared him well to fill the curator role after Slattery.
Schoenburg, a native of Albuquerque, received his Bachelor of Arts in International Affairs from Lewis & Clark College in Portland, Oregon in 2012. At UNM he has been a Graduate Assistant for Land Arts of the America West, and Introduction to Printmaking. He plans to complete his MFA by spring 2021.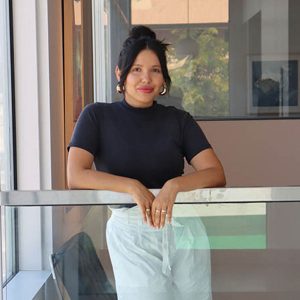 KYLEE ARAGON WALLIS
Gallery Director
Kylee Aragon Wallis received her BFA in Art History in 2016 and her Master's degree in Museum Studies with a focus on curation from The University of New Mexico in 2022. 
More Information on Kylee Aragon Wallis
Throughout her career, she has followed her passion for prints—prior to her post as print curator at Zane Bennett Contemporary in Santa Fe, she worked in various supporting roles at Tamarind. Her longstanding dedication to collaborative printmaking has brought Aragon Wallis back to Tamarind Institute in this new role.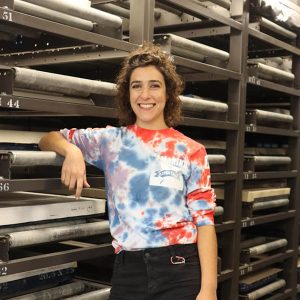 JULIA MARCO CAMPMANY
2022-23 Apprentice Printer
Julia Marco Campmany of València, Spain, completed the Printer Training Program in May of 2022. Marco received her Master's degree in printmaking from the Royal College of Art in London and a Master's degree in education and teaching from the University of Barcelona. Before that, she studied fine arts at the Politechnic University of València and the Jan Matejko Academy of Fine Arts in Kraków. Marco has done internships with Tamarind trained printers at Keystone Editions in Germany and Helsinki Litho in Finland. Before completing the Printer Training Program, she worked as a printer at Thumbprint Editions in London.
MARJORIE DEVON
Tamarind Director Emerita
Devon served as Tamarind's third director from 1985 to 2015, succeeding Clinton Adams. Under her direction Tamarind greatly expanded its international program, bringing artists from countries such as Brazil, Cuba, Russia, Africa, and Australia to collaborate in the workshop. In 2015, the Tamarind National Advisory Board initiated a scholarship honoring Marjorie Devon's thirty-eight years of contributions to fine art lithography and her passion for the international arts community. The board established this fund to award scholarships to deserving students to study at Tamarind. After her retirement, Devon completed a series of documentary videos featuring workshops around the world that were established by Tamarind trained printers. Tamarind Printers Around the World captures various workshop models and was developed as an educational tool; the series also celebrates just a few of the many talented printers who trained at Tamarind during her tenure.
Tamarind National Advisory Board
In 2007 Tamarind formed a committee of dedicated Tamarind supporters to aid in the fundraising for Tamarind's building campaign. After the successful campaign, the committee soon became the Tamarind National Advisory Board.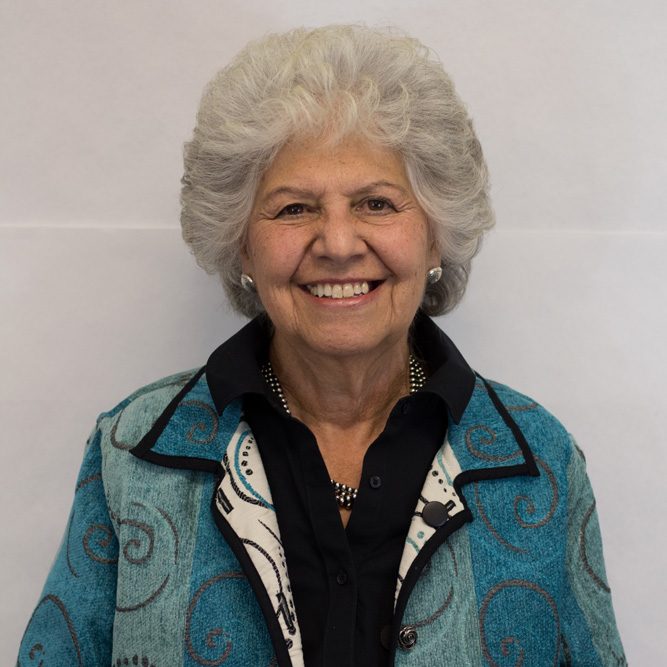 Karen Adele Abraham
Albuquerque, New Mexico
Karen Adele Abraham is a native New Mexican . Her birth certificate authenticates that she was born in P.O Box 1663, Santa Fe New Mexico (along with approximately 300 other babies born in Los Alamos). 
More Info on Karen Adele Abraham
Karen attended the University of New Mexico (BSE '67, MA '68, Ed.D '71) and finally left the Campus after 52 years.
She occupied her time as the Associate Dean of Students and the Director of the Student Activities Center ( 17 years) following in the position of Associate Vice President of Alumni Relations and Executive Director of the University of New Mexico Alumni Association (28 years). It was during this latter time she helped establish a 7 million dollar endowment for the sustainability of the Association; assisted in raising 3.7 million dollar for the renovation of Hodgin Hall, the first building on campus, and now the Alumni Center; and funded another $735,000 for creation of the patio and grounds outside the Alumni Memorial Chapel. Karen, if asked, would say the keystone to her success was built on creating community and understanding, nurturing and savoring relationships.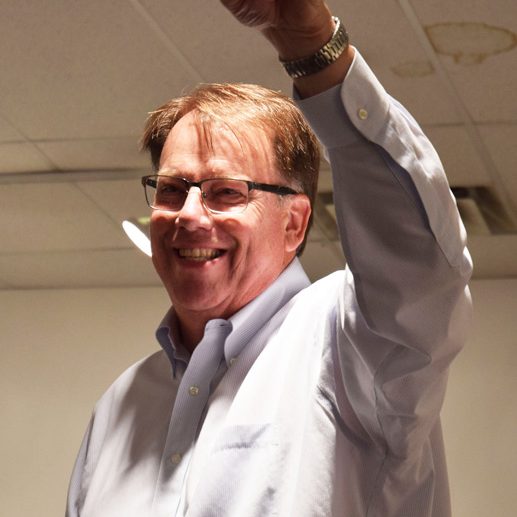 Lance Armer
Santa Fe, New Mexico
Lance Armer has owned and operated Santa Fe Mortgage since 1993. From 1980 to 1993 he was in radio broadcasting, first as the owner and manager of KLFQ-FM, Hutchinson, Kansas (1982–1986), and then as manager and part owner of KBOM-FM, Santa Fe, New Mexico (1987–1993).
More Info on Lance Armer
He has served on numerous boards including the Kansas Association of Broadcasters; the Santa Fe Food Depot, a regional food bank, (President, 2001); the Santa Fe Pro Music Chamber Orchestra; and the Santa Fe Advertising Club Board (President, 1990).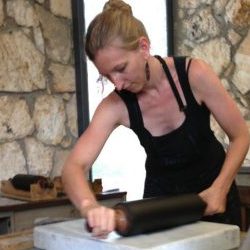 Deb Chaney
Brooklyn, New York
Deb Chaney Editions, LLC, located in Brooklyn, NY specializes in fine art lithographic printmaking using traditional stone, plate, and photo processes. Deborah Chaney is a Tamarind Master Printer with over 10 years experience collaborating and printing with numerous artists from all over the globe. 
More Info on Deb Chaney
With experience gathered from working in other printing studios and alongside other professional printers, she has established her own independent print studio where she collaborates with artists and print publishers
Deb Chaney received her BFA in printmaking from University of Tennessee, Knoxville and her Master Printer Certificate from the Tamarind Institute for Lithography in Albuquerque, New Mexico.  She has extensive training and experience working in numerous printmaking workshops, including the Tamarind Institute, the Robert Blackburn Printmaking Workshop in NY, NY, and La Ceiba Gráfica in Coatepec, Veracruz, Mexico. In addition to collaborative printing, she teaches lithography at Pratt Institute as well as Parsons, The New School for Design, and has taught workshops at The Center for Contemporary Printmaking, the Metropolitan Museum of Art, and Universidad Autónoma Benito Juárez de Oaxaca, Mexico.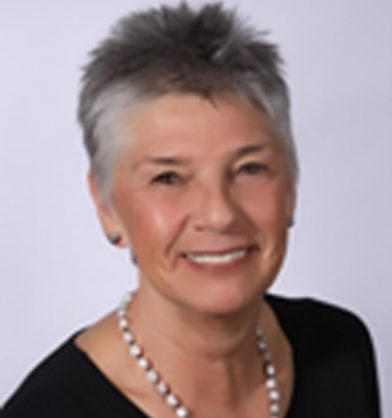 Debi Dodge
Albuquerque, New Mexico
Debi Dodge lives in Albuquerque with her husband, Clint Dodge. They are avid art collectors, and enjoy supporting New Mexico artists and the local art community. Debi has worked for Molzen Corbin, an architecture/engineering firm for twenty years. She is also an artist, working in print and encaustic mediums.
More Information on Debi Dodge
Debi has served on several boards in Albuquerque including; New Mexico Arts & Crafts Fair, New Mexico Museum of Natural History and Science, UNM Art Museum, Albuquerque Arts Alliance, City of Albuquerque Arts Board (President), and 516 Arts. She was an integral member of Tamarind's Capital Campaign Committee, helping to raise funds for Tamarind's new building.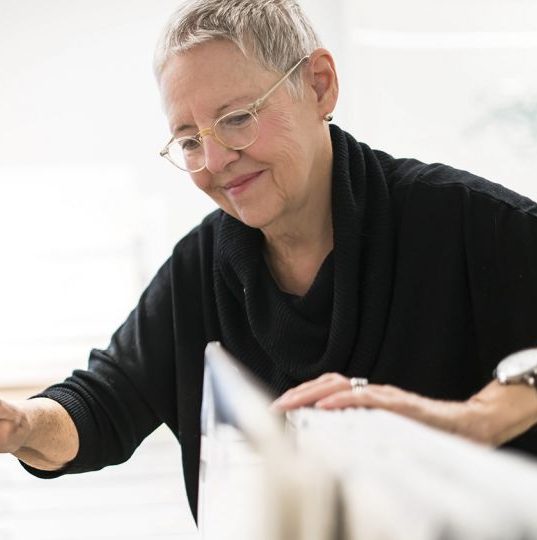 Lara Johnson
Albuquerque, New Mexico
Lara Johnson has volunteered at Tamarind since retiring to Albuquerque from Baltimore, Maryland. During her early career, she held senior marketing and development positions for several museums and arts organizations across the country and then worked as the marketing director for a number of architectural and engineering design firms. 
More Info on Lara Johnson
While in Baltimore, she chaired the affiliates committee for the Baltimore Chapter of the American Institute of Architects and served on the Board of Directors of the Baltimore Design School on the development committee and as chair of the public relations committee.
Lara received a BFA from Illinois Wesleyan University and MS from the Institute of Design at Illinois Institute of Technology, where her studies included printmaking. At the Institute of Design, she was a graduate assistant to Misch Kohn, who was one of the first artists invited by June Wayne to make prints at Tamarind. A native of St. Louis, she was mentored by Emily Rauh Pulitzer, the first Chief Curator at the St. Louis Art Museum. After graduate school, she worked for Landfall Press in Chicago and Lakeside Press in Michigan.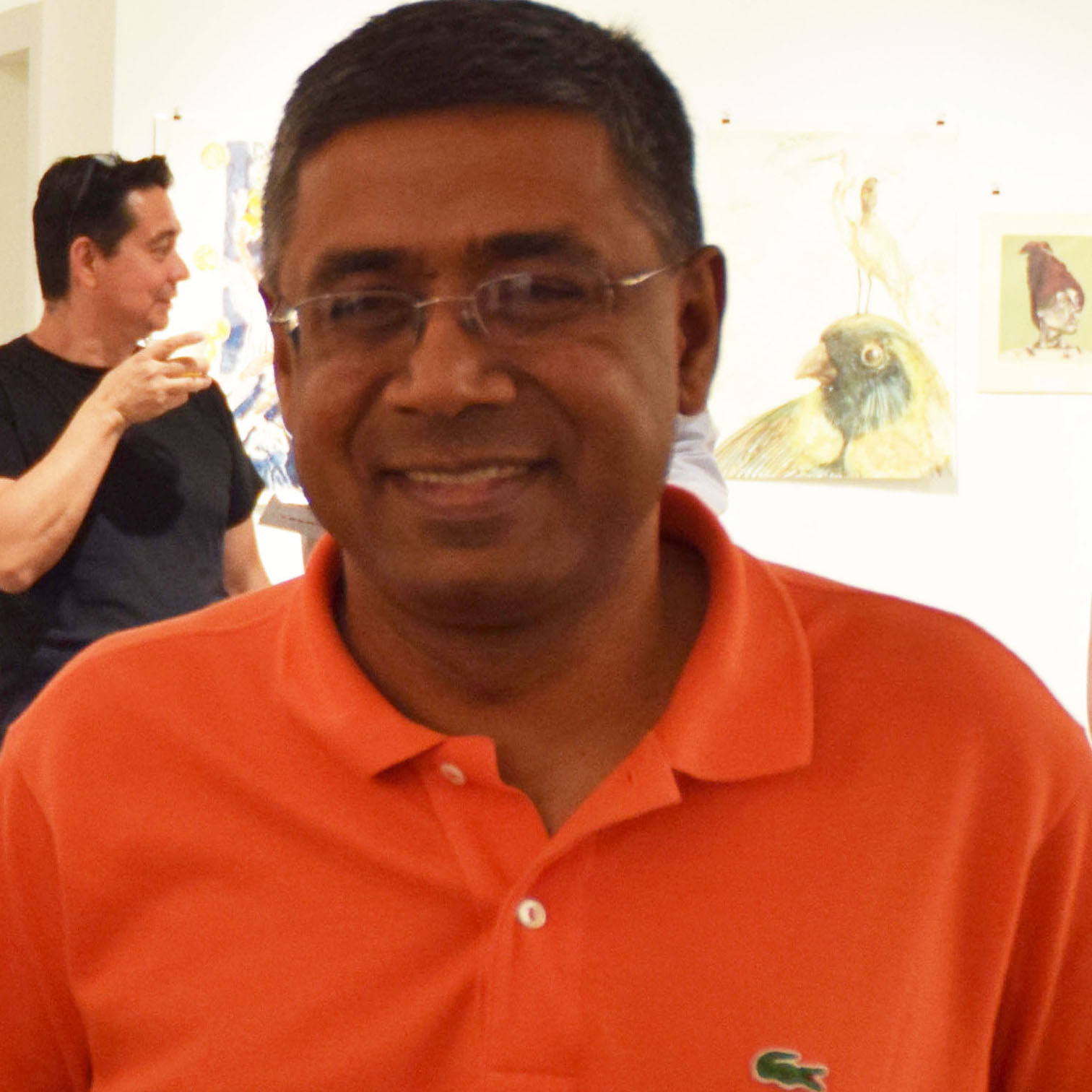 Jayant Kumar
Los Ranchos, New Mexico
Jayant  Kumar moved to Albuquerque in 2008 to join Renal Medicine Associates, where he is a partner and practicing nephrologist. He is originally from India, and completed his training in New York City and Stanford, California. 
More Info on Jayant Kumar
He was Associate Professor at the University of Arkansas for Medical Sciences before moving to New Mexico. He and his wife, Maria, have three children and are avid art collectors. Their collection includes many Tamarind prints. Collecting and living with art is very enriching for Jayant and his family, and the patients who visit his medical office.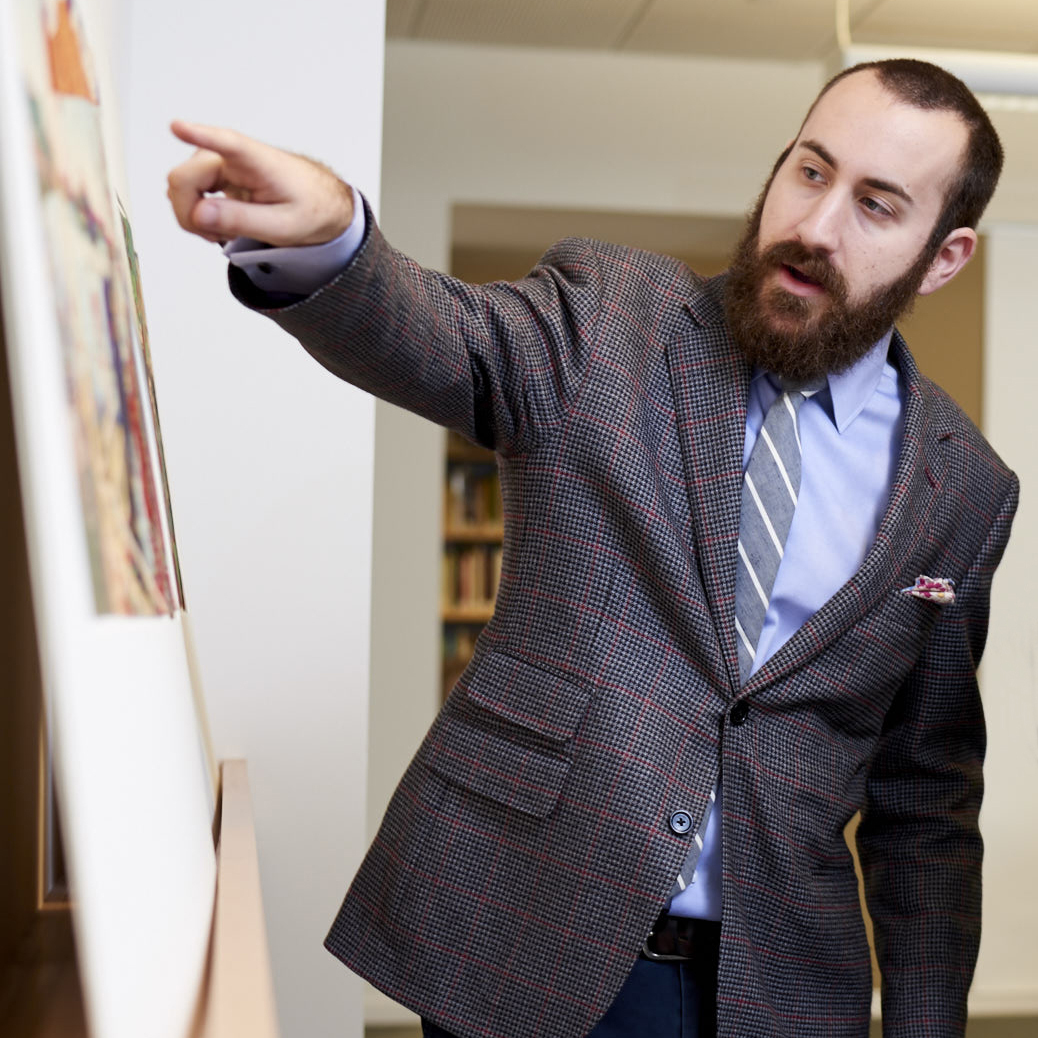 Benjamin Levy
Cleveland, Ohio
Benjamin Levy is a doctoral student at Case Western Reserve University, studying mid-19th through mid-20th-century art, particularly prints and photographs. Levy is also a trained printmaker with a background in collaborative printing. Formerly, Levy has held curatorial positions at the Henry Art Gallery at the University of Washington and in the Department of Prints, Drawings & Photographs at the Baltimore Museum of Art. 
More Info on Benjamin Levy
He gained collaborative printmaking experience at Harland & Weaver, Inc. and Dieu Donné in New York, and Dolphin Press & Print in Baltimore. He has been a contributing writer for Art in Print for five years, and his essay on Stanley William Hayter will be published in an upcoming catalog on the printmaker and his workshop, Atelier 17, for the Baltimore Museum of Art.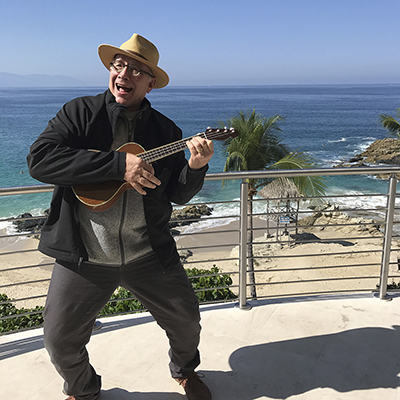 Mike Lyon
Kansas City, Missouri
Mike Lyon is a full-time visual artist working in Kansas City. He earned a BA in Architecture and Fine Arts from the University of Pennsylvania in 1973, and a BFA in Painting from the Kansas City Art Institute in 1975.
More Info on Mike Lyon
Lyon has been called a father of post-digital printmaking because of his extraordinary use of digital technologies. He creates imagery using computer software that he has written or adapted, and regularly develops machinery to manipulate traditional tools and materials using unconventional methods. Lyon has exhibited extensively nationally and internationally including China Art Museum, Shanghai; Royal Scottish Academy, Edinburgh; Milwaukee Institute of Art and Design; Anderson Ranch Arts Center; The Center for Contemporary Printmaking, Norwalk, CT; and Spencer Museum of Art, Lawrence, KS. His work is in the permanent collections of the Daum Museum of Contemporary Art, Sedalia; the Kemper Museum of Contemporary Art, Kansas City; Spencer Museum of Art, Lawrence; Art Museum at the University of Kentucky, Louisville; New York Public Library; and numerous corporate and private collections.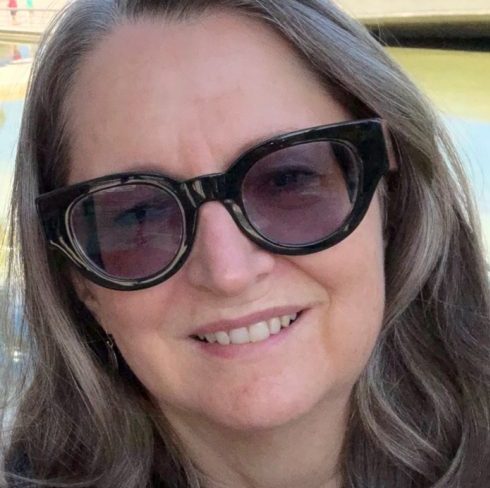 Robyn Mewshaw
New York, New York
Robyn Mewshaw grew up in Albuquerque and studied art history at the University of New Mexico. After graduating, Robyn lived in Santa Fe for a few years before moving to San Francisco where she worked in institutional equity sales at Merrill Lynch until offered a similar position with the firm in New York City a year later.
More Info on Robyn Mewshaw
In 1992, Robyn graduated from New York Law School, which she attended at night while continuing to work full-time at Merrill Lynch. She worked in the Office of General Council at Merrill until retiring to care for her daughter Elizabeth. Since then Robyn, along with her husband Ben Indek, has been collecting prints and photographs, going to the theatre, traveling, and generally enjoying life in New York City.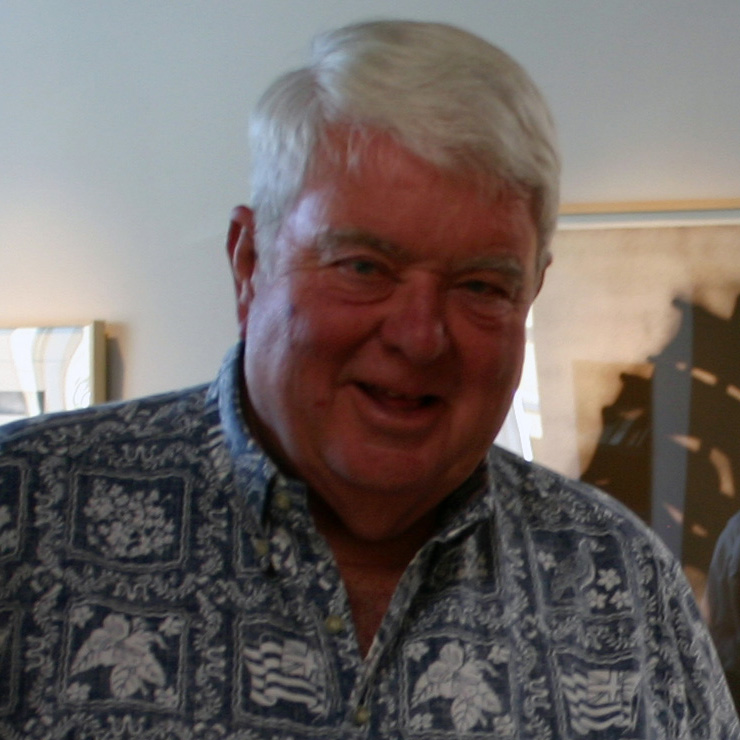 Frank Purcell
Taos, New Mexico; Palm Springs, California
Frank Purcell grew up in Palm Springs, California, and has degrees in geology from USC. He served as an Air Force pilot, had a brief teaching career, and then returned to Palm Springs to enter the retail building materials business. 
More Info on Frank Purcell
For thirty-eight years he owned and managed several construction related businesses. He served as President of the State Lumber Association and as Director of the State Hardware Association.
Frank has been involved with many civic associations and activities including: director of a financial institution; city councilman; Mayor Pro-Tem; Jaycee President and JCI Senator; member of the Chamber of Commerce; board member of the Boy Scouts. He also served for a number of years as Trustee and Vice President of the Board of The Desert Museum in Palm Springs, California. He currently serves as an advisory board member and co-chair of the the Directors Circle of the UNM Harwood Museum of Art in Taos.
One of his ongoing special interests has been collecting and appreciating works on paper with special focus on the works of Gene Kloss. Frank and his wife, Joy, live in Taos and Palm Springs. They have been married for fifty years, and have four children and eleven grandchildren.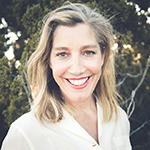 Nicole Rassmuson
Santa Fe, New Mexico
Nicole Rassmuson is an internationally known designer and art director with significant experience in London, New York, Hong Kong, Stockholm and Santa Fe. Nicole is well-known for breakthrough work created for national and international clients including: the Victoria and Albert Museum, Stockholm University, Henry and Camille Dreyfus Foundation and the Rockwell Group. Though her primary discipline is visual communications, Nicole is a strategic thinker specializing in branding.
More Info on Nicole Rassmuson
Though her primary discipline is visual communications, Nicole is a strategic thinker specializing in branding
Nicole applies a curious, experimental eye to a firm foundation in contemporary, emotive design and groundbreaking identity presentations. She has earned numerous awards for her work in London, New York, Hong Kong and Santa Fe.
Educated at William Smith College in New York and at American Intercontinental University in London, and with a Masters in Communication Design at Central Saint Martins College of Art and Design, Nicole has continued to hone her appetite for education through travel, significant work with non-profit and environmental projects and the occasional tough love move on the soccer pitch. She tempers her competitive spirit with a grounded, strategic approach to visual communications, branding and entrepreneurial best practices. I try to live and love with big, gregarious, outspoken generosity. But on the ski slope, I don't care if you're my client or one of my children.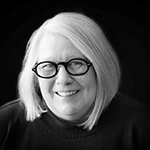 Melissa Rountree
Kansas City, Missouri
Melissa Rountree served as Curator of the Fine Art Collection at Hallmark Cards, Inc., in Kansas City, Missouri, from 1990-2008. In this position she added significantly to the size and importance of one of the nation's most prominent corporate art collections.
More Info on Nicole Rassmuson
She has curated numerous outside exhibitions, including "Sol Lewitt: Prints from the 1990s" for the University of Missouri-St. Louis; "The 1970's: Suites and Portfolios from the Hallmark Art Collection" for the H&R Block Artspace at the Kansas City Art Institute; and "Prints by the Sculptors from the Hallmark Fine Art Collection" for the Polk Museum of Art, Lakeland, Florida.
She has served as a member the Grand Arts Advisory Panel since 1998. Other committee activity includes the Charlotte Street Fund in Kansas City (2001–2003); Exhibits USA Advisory Panel (1994 – 1996);and the Midwest Museum Conference Program Committee (1993 – 1994). She is also a Visiting Instructor at the Kansas City Art Institute, where she has taught History of American Printmaking since 1995.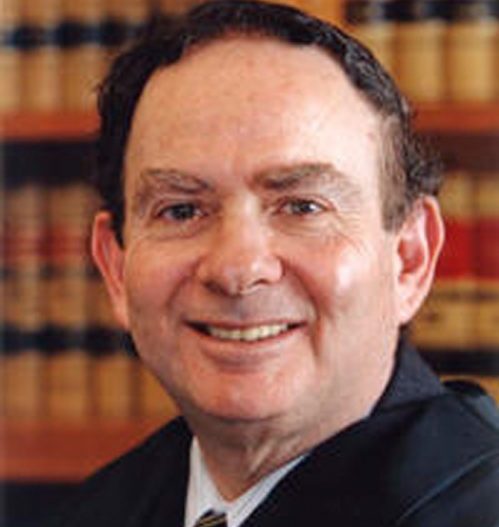 Ronald W. Stovitz
San Fransicso, California
Ronald W. Stovitz is retired Presiding Judge of the State Bar Court of California and served as a Regent of the 10-campus University of California system. He received his B.A. degree in political science in 1964 from the University of California, Riverside, and his Juris Doctorate in 1967 from the University of Southern California Law School. 
More Info on Ronald W. Stovitz
He was appointed by the Supreme Court of California in 1989 to one of the first full-time judgeships created to decide appeals in all cases of attorney discipline and regulation. He was elevated to the Presiding Judgeship in 2001. He continues to serve the State Bar Court pro bono in retirement.
Judge Stovitz has served as President of the National Organization of Bar Counsel and was the founding President of the National Council of Lawyer Disciplinary Boards. For more than 20 years, he served as an invited faculty member of the American Bar Association's Annual Conference on Professional Responsibility. He has also served as an ex officio member of the California Judges Association Ethics Committee and chaired its Electronic Information Committee. He has served as President of the UCR Alumni Association and currently serves as a Trustee of the UCR Foundation. He has a longtime interest in collecting art, in particular works on paper.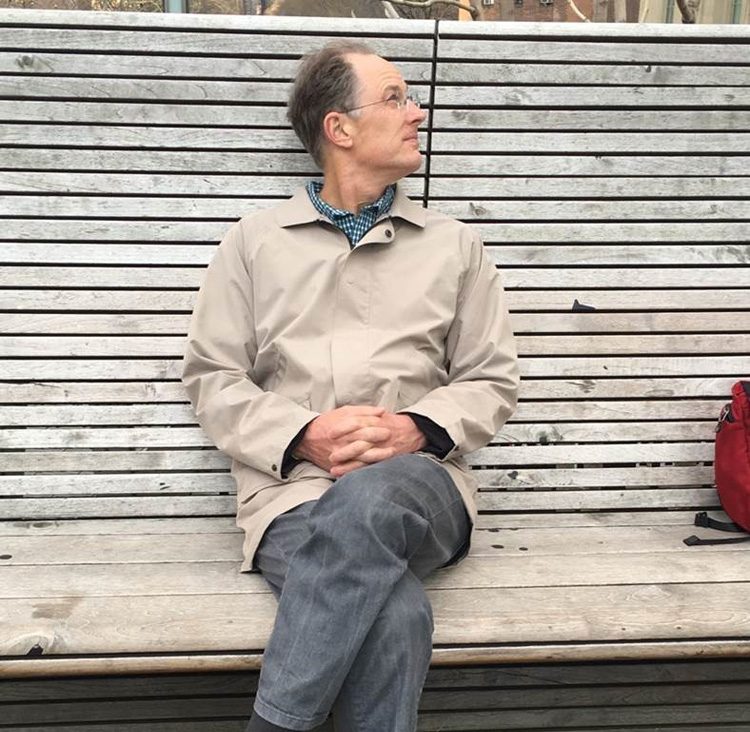 Mark Unverzagt
Albuquerque, New Mexico
Mark Unverzagt is a primary care physician practicing in Albuquerque. His involvement with Tamarind began shortly after he graduated from his medical residency in the mid-1990's. "I was struck by the array of beautiful works that even a young professional could afford." 
More Info on Mark Unverzagt
He has remained committed to this democratic ideal of printmaking, and is fascinated by the timeless process of printing on stone. "Printing on stone began in places like Lascaux. And millennia later, even with the the technological revolutions of the printing press straight through to the Information Age, lithography in its purest form embodies the apex of human achievement. Taking an idea or image that may have developed over hours or months and literally applying that idea to a material that had its genesis eons before human life evolved is such a radically beautiful concept that it still boggles my mind." 
Dr. Unverzagt has served on boards for medical research, education and health care delivery. He also continues to run his own foundation that focuses on underserved and marginalized populations across the globe.
University Affiliated Educator Board Member
This is a two-year rotating position for a Tamarind alumni, educator, or practicing artist, with a particular focus on student recruitment, building  bridges to UNM, and advancing diversity within our educational program.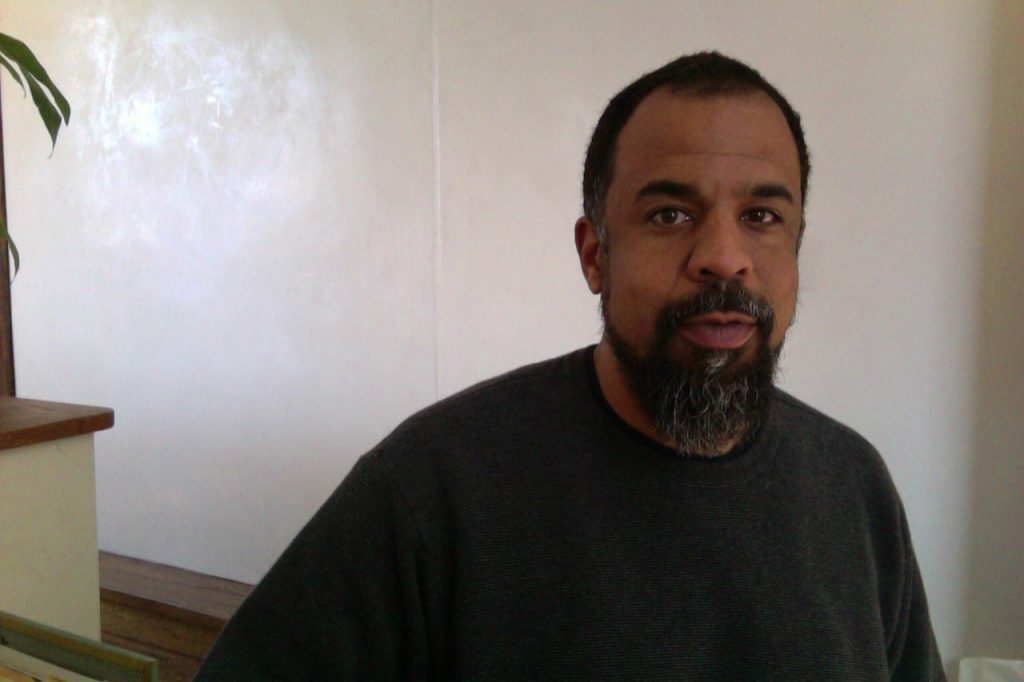 Karsten Creightney
Albuquerque, New Mexico
Karsten Creightney grew up in Albuquerque, New Mexico. He received his BA from Antioch College, 2000. He completed the Tamarind Institute's Professional Printer Training Program in 2001, and received his MFA from UNM, 2011. Creightney works in multiple media combining prints, paint, photographs and found materials to create images that capture the partly lived, partly imagined sense of place experienced in memory. His work is in the collection of the Albuquerque Museum, Cleveland Museum of Art, Detroit Institute of Arts, Kalamazoo Institute of Arts, Minneapolis Institute of Arts, Nelson-Atkins Museum of Art, Springfield (MO) Art Museum and numerous other institutions. He is currently an assistant professor of printmaking at the University of New Mexico. 
Contact Tamarind Institute