ENTRY DEADLINE FEBRUARY 24, 2020
Tipping Points at Tamarind Institute:
A Collaboration with ABQ Public Art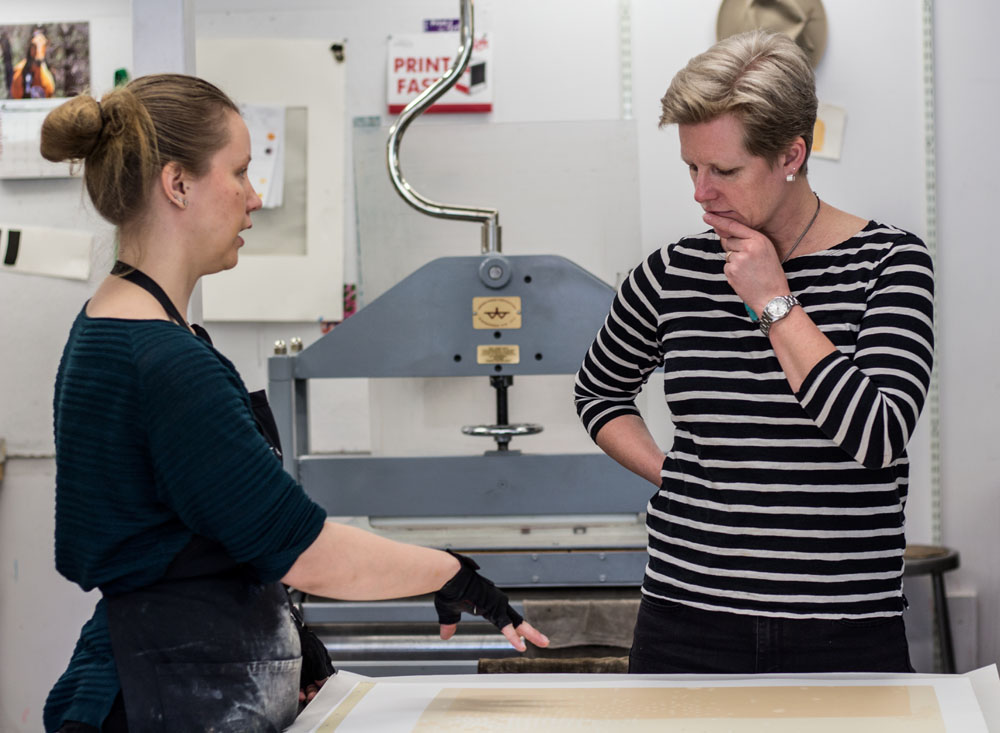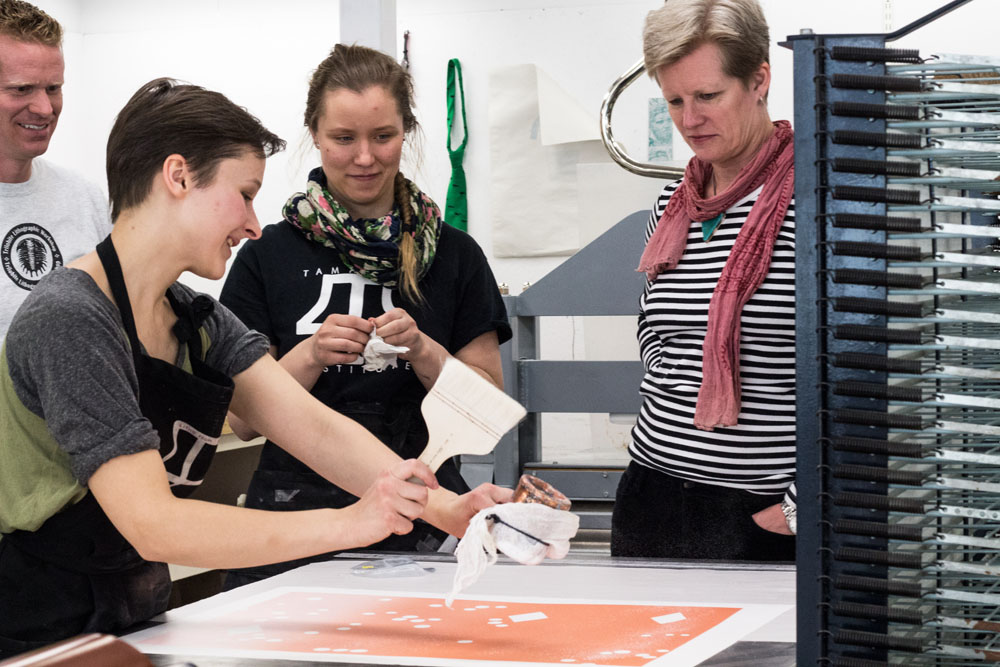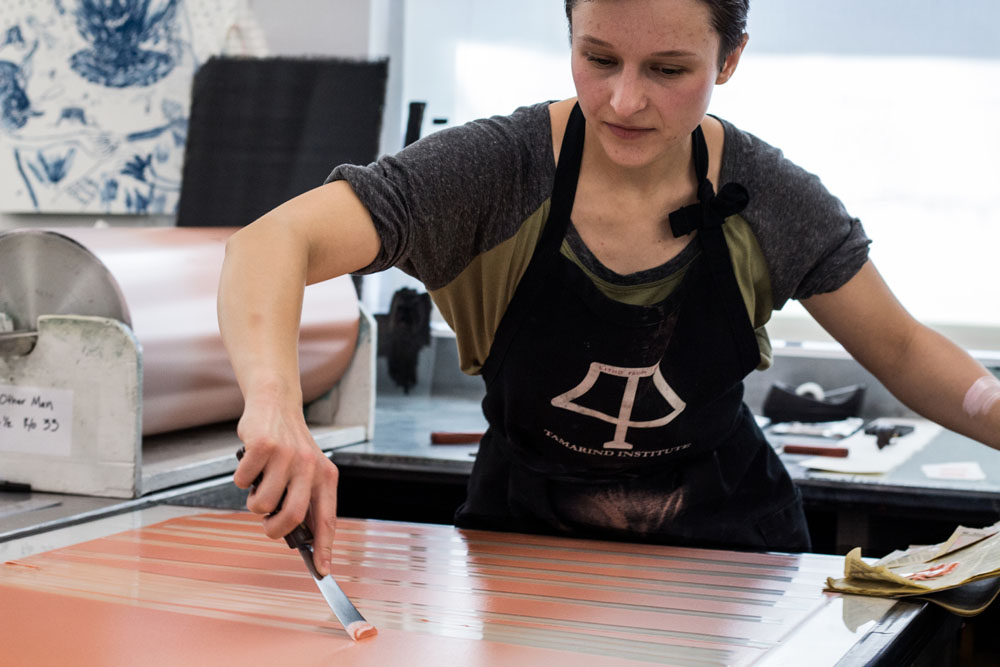 Visiting artist Sarah Smelser working with Tamarind student printers. Smelser is a skilled printmaker herself, but many artists at Tamarind do not have printmaking backgrounds, and instead rely fully on the expertise of Tamarind's collaborative printers. 
Inspired by the momentum of the City initiative Tipping Points for Creatives, this project at Tamarind will engage artists who are ready to expand their practice to include collaborative printmaking. For many artists, the opportunity to collaborate with Tamarind's highly skilled printers yields new thinking about their creative practice and builds new international audiences for their work, essentially tipping local professional artists into the next phase of their career and into new markets.
Up to five New Mexico artists who are able to communicate their strategic approach to collaboration and lithography will be selected to print at Tamarind over the next 18 months – approximately May 2020 through June 2021. Each artist will participate in a two-week workshop residency to make one lithograph in collaboration with Tamarind-trained printers; no previous experience in printmaking is necessary. Fully supported workshop residencies are available May/June 2020 and March/May/June 2021 (M-F, 8am-5pm). The printers will guide the participating artists to produce lithographs of a consistent format suitable for creating a "Tipping Points Portfolio"; yet the project by its very nature will embrace the diversity of the artists' practice. The resulting portfolio of five prints, once fully editioned, chopped, and signed, will be distributed among the City, Tamarind, and the participating artists as outlined below. Produced in an edition of fifteen (with additional artist proofs and printers' proofs as part of the fully documented edition), the portfolios will be distributed as follows:
Portfolios:
City of Albuquerque receives two complete portfolios
Participating artists each receive three artist proofs and one complete portfolio
Participating printers each receive one printer's proof
Tamarind Institute receives eight complete portfolios
Tamarind retains one portfolio for its own in-house archive; one portfolio enters the University of New Mexico Art Museum Tamarind Archive; and the remaining six portfolios will be exhibited in Tamarind's public gallery, promoted through social media, and presented at international art fairs that Tamarind regularly participates in. Through this broad public exposure Tamarind will promote a talented group of local artists to a large audience, and build new and unexpected opportunities for the participating artists and printers.
Artists' Fees and Benefits:
Each artist will receive a $1,200 design fee directly from the City of Albuquerque. In addition, the City of Albuquerque will cover the Tamarind workshop fee. The workshop fee provides for a 4-5 color lithograph, measuring 30 x 22 inches, in an edition of 15. Selected artists may augment the printing budget with their own funds to either increase the amount of colors, paper size, or add special processes. Additional production costs will be negotiated directly between the artist and Tamarind.
Additional benefits to the artists include:
A complete portfolio of the five participating artists' prints.
Gain direct experience in collaborative printmaking and the lithography process.
One print included in the UNM Art Museum Tamarind Archive
Two prints included in the City of Albuquerque Public Art Collection
Included in Tamarind's website and platforms such as Artsy and social media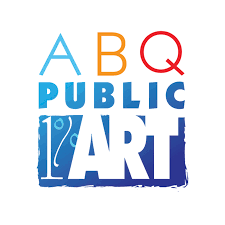 No previous printmaking experience required.