EAT | SLEEP | BREATHE | LITHO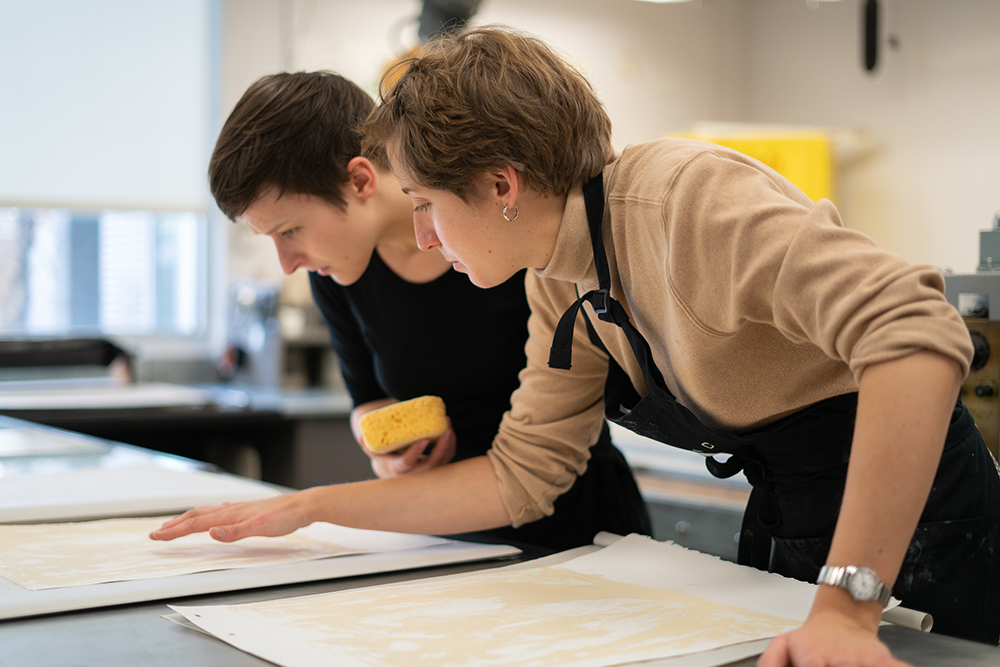 Printer Training Program
An intensive program for students who wish to pursue careers as collaborative printers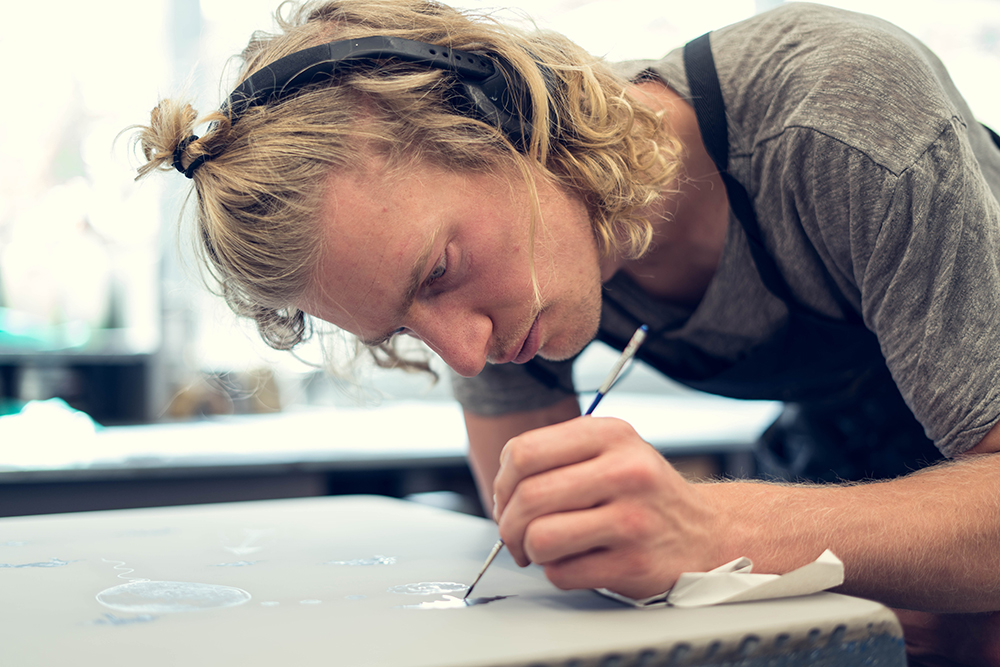 MFA in Collaborative Lithography
An M.F.A. with a focus on collaborative lithography, offered in cooperation with The University of New Mexico's Department of Art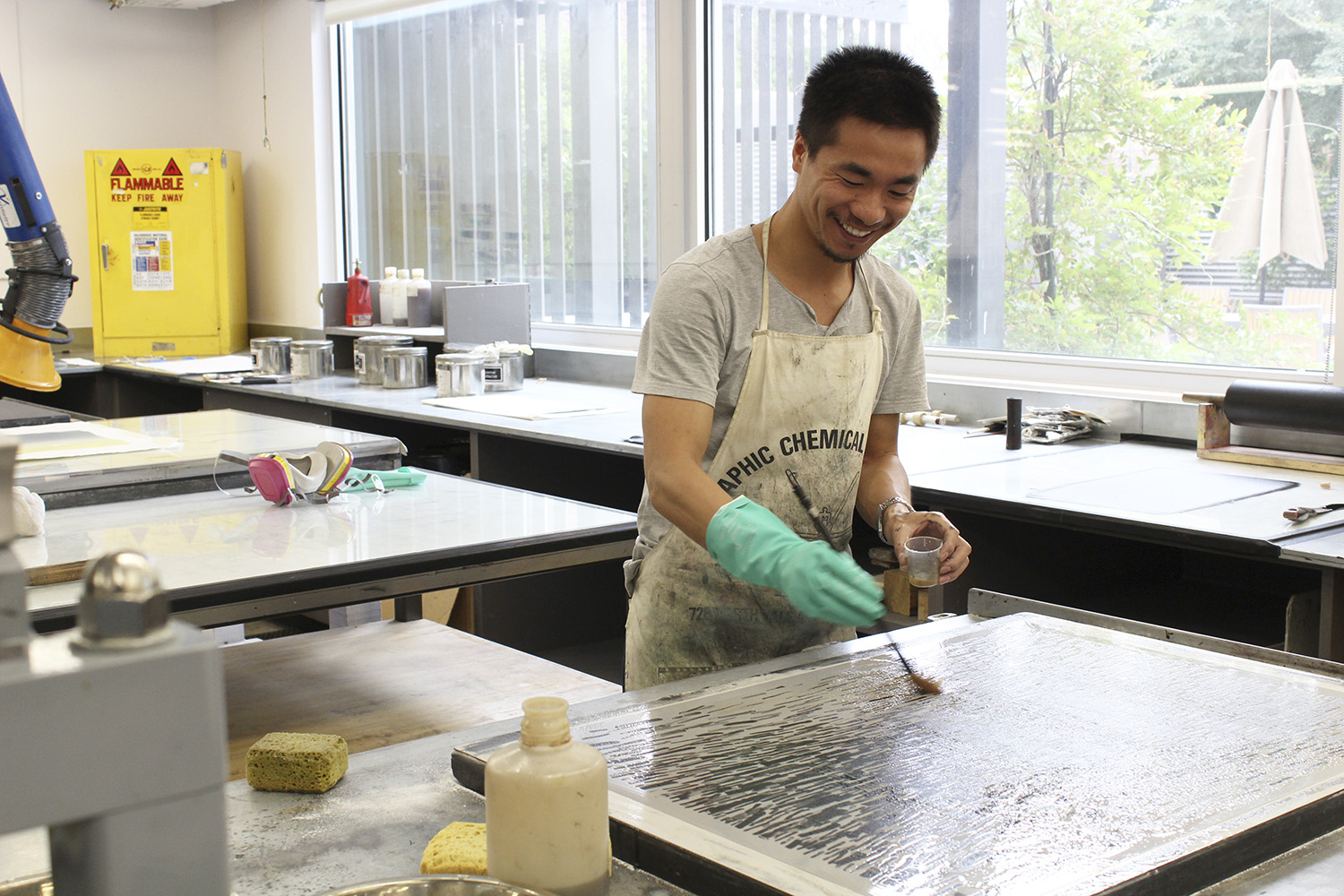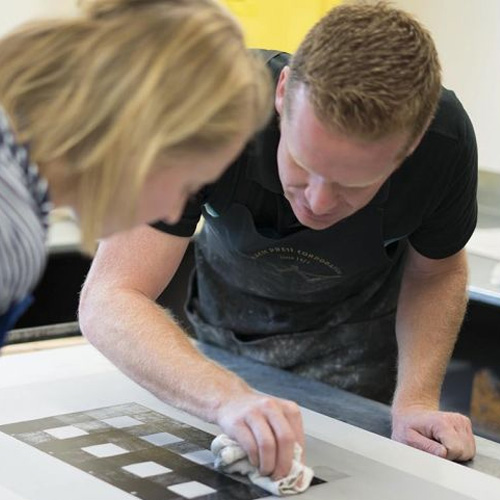 Brandon Gunn, Tamarind Master Printer
Professor of Practice/Education Director
Brandon J. Gunn joined the Tamarind staff in January 2016 as Director of Education. Gunn is originally from Orem, Utah. After receiving a Masters degree in Printmaking at Illinois State University in 2006, and the Tamarind Master Printer Certificate in 2008, he began teaching full time, in addition to producing his own artwork, printing collaboratively, and constructing leather rollers. Gunn has considerable experience as a collaborative printer and educator, and is extremely knowledgeable in traditional and modern lithography, intaglio, woodcut, and digital printing techniques.
He has taught undergraduate and graduate level courses at Santa Fe Community College, Concordia University in Montreal, Brigham Young University Idaho, and Indiana University in Bloomington. He has also printed at Normal Editions Workshop, Stinger Editions, and for Indiana University's visiting artist program. Gunn is responsible for the internationally recognized Professional Printer Training Program and the intensive Summer Workshop. He also regularly conducts external workshops and presentations, researches new materials and techniques, and consults with educational institutions, workshops and suppliers in the field.
Resources for Printmakers
How-to videos, workshop models, recent research projects, and an interactive map to find workshops and classes taught by Tamarind-trained printers are all available on our Resources for Printmakers Page.
How to apply for Tamarind's Educational Programs
Download the
Printer Training Application
,
May Summer Workshop Application
or
July Summer Workshop Application
and send application and related materials to Tamarind Institute, 1 University of New Mexico, MSC04 2540, Albuquerque, NM 87131-0001. Or, applicants may e-mail materials to
tamarindeducation@unm.edu
.
For students applying for the MFA Program, please note that there is a separate application to the College of Fine Arts, which will be reviewed independently of the Tamarind application. Students must apply for both the Tamarind Printer Training Program and the UNM MFA program. January 15 is the deadline for UNM's College of Fine Arts.
Applications for the 2024 Summer Workshops and 2024-2025 Printer Training Program MUST BE RECEIVED BY JANUARY 15, 2024.
Tamarind offers scholarship support for students enrolled in the one-year Printer Training Program.
The Marjorie L. Devon Tamarind Scholarship Fund, created in honor of Tamarind's Director Emerita who served for thirty years (1985-2015), provides several merit-based scholarships between $2000-8000. This scholarship fund provides support for tuition and workshop fees and will be awarded to students expressing an interest in pursuing a professional career in collaborative printmaking.
Applications from candidates accepted into the Printer Training Program are due March 1, 2024. Please inquire with tamarind@unm.edu for information and to request an application form.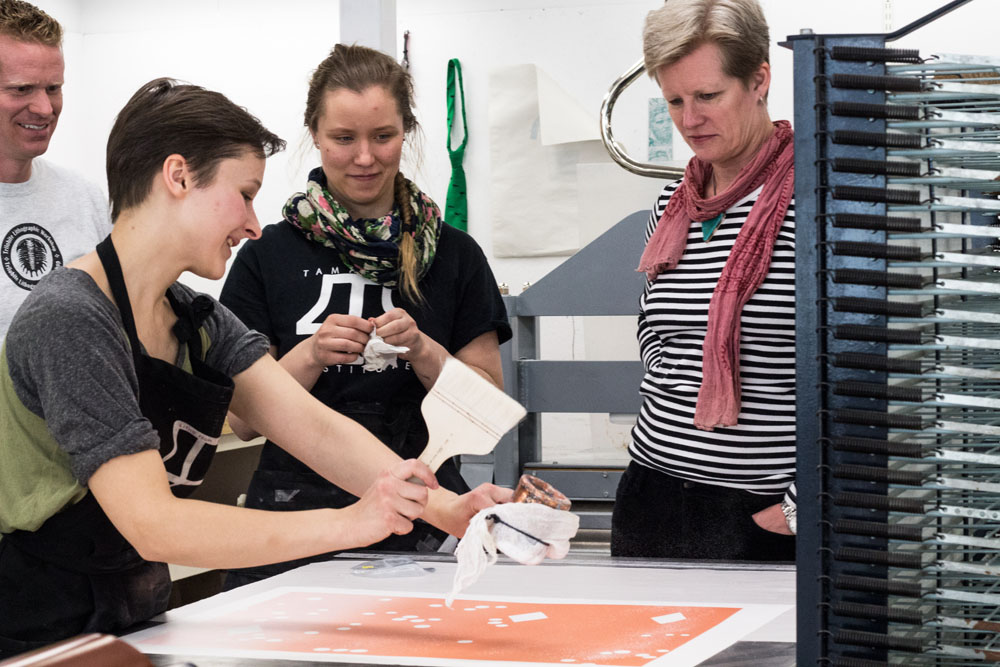 Call for Artist Proposals
Collaborations with student printers
Tamarind Institute invites applications for artist collaborations with its skilled student printers. Three guest artists will be selected to participate in two-week residencies in the workshop, each working with a team of student printers under the close supervision of a Tamarind Master Printer. Participating artists will create two print editions as outlined in the Call for Proposals, with the printers providing guidance on the materials and all technical aspects of the printing process. No printing experience necessary.
Applications are due October 30, 2023 (extended from October 1) for the following spring program. 
Student Printers' Projects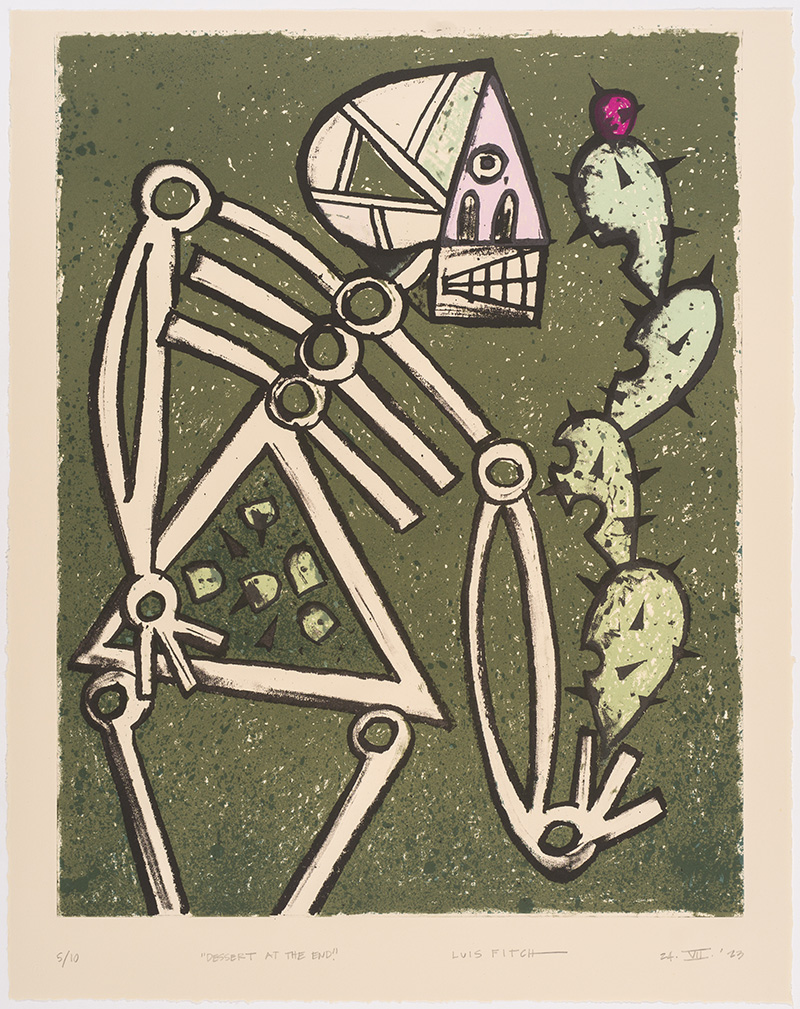 Luis Fitch
Dessert at the End, 2023
Five-color lithograph on Soft white Somerset satin
Collaborating Printer: Adam Berman
(23-808)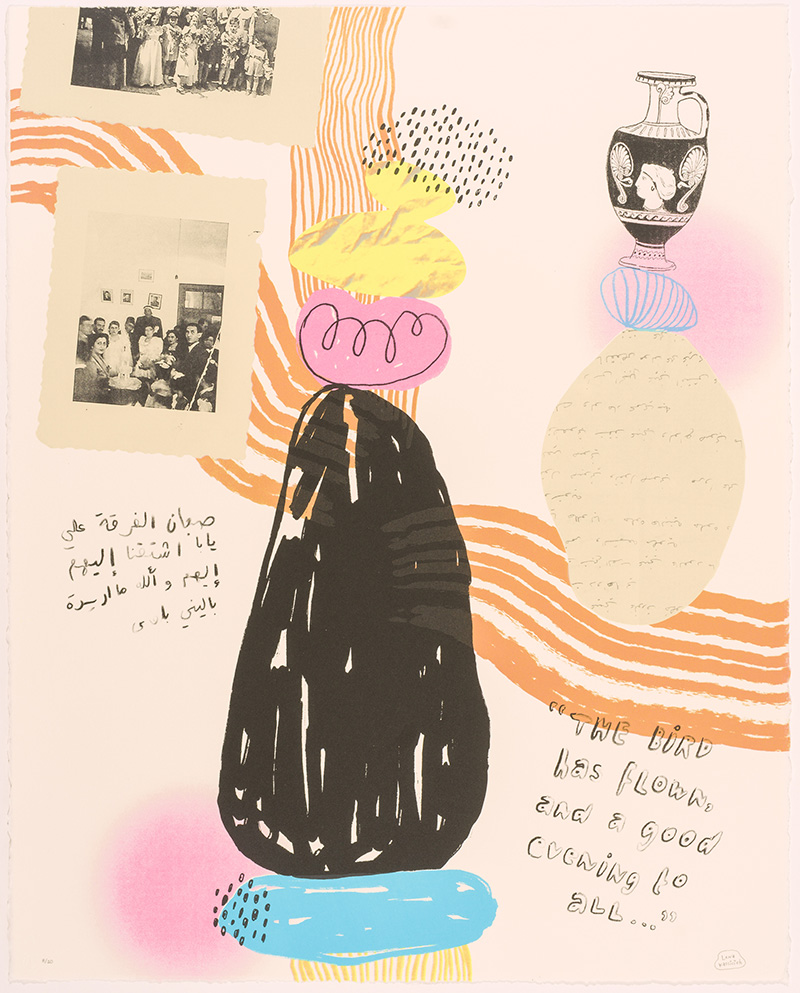 Lena Kassicieh
Above the Palms (Foq Al-Nakhel), 2023
Five-color lithograph on Off White Rives BFK
Collaborating Printer: Jinkyoung Lee
(23-809)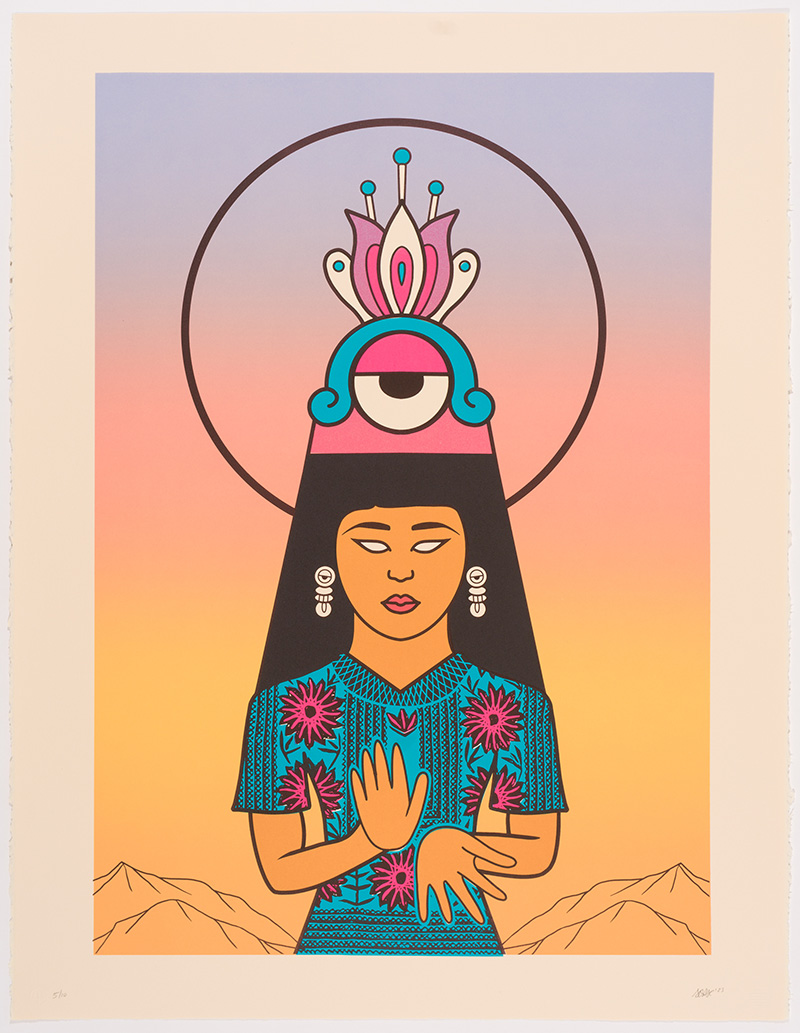 Dora Raíz Chavarria
Xochiquetzal, 2023
FIve-color lithograph on Cream Arches Cover
Collaborating Printer: Emma Sattler
(23-810)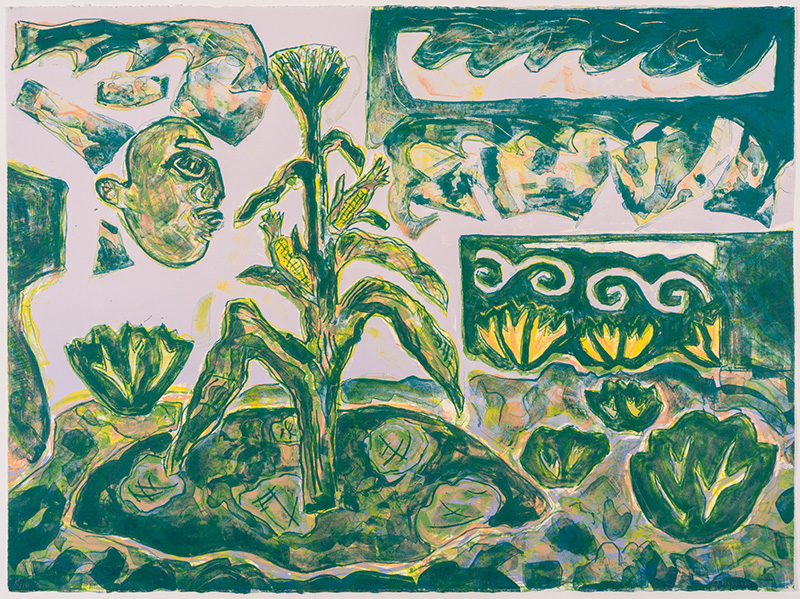 Julianna Kirwin
Ancestral Landscape, 2023
Five-color lithograph on White Arches Cover
Collaborating Printer: Katherine Westbrook
(23-811)
ABQ Public Arts
Luis Fitch and three New Mexico-based guest artists, Lena Kassicieh, Dora Chavarria, and Julianna Kirwin, participated in a project sponsored by the City of Albuquerque and led by Education Director and Tamarind Master Printer Brandon Gunn.
Contact Tamarind Institute