Frederick Hammersley Artist Residency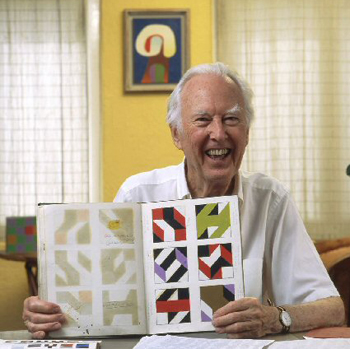 Frederick Hammersley
(1919-2009) spent most of his formative years, time as a student, and early career in California, where he garnered a reputation as an important abstract painter in the west coast scene and began a prominent career in geometric hard-edge painting in the late 1950s. In 1949-50, he taught himself lithography and produced an innovative group of prints through which he systematically explored the properties and interactions of color, line, value, and texture on various papers and even fabric.
In 1968, Hammersley moved to Albuquerque and accepted a teaching appointment at the University of New Mexico. During this time, he was introduced to Art1, a newly developed computer program that enabled artists to create artworks using a mainframe machine and line printer. The computer drawings he made, which he sometimes called prints, are some of the earliest instances of computer art. Hammersley resigned from teaching in 1971 but continued to live and work in Albuquerque, receiving a prestigious Guggenheim Fellowship in 1973 and NEA grants in 1975 and 1977. He continued to paint, draw, and make prints, including a number of lithographs at Tamarind, until his death in 2009.
In 2016, the Frederick Hammersley Foundation initiated the Frederick Hammersley Artist Residency and the Frederick Hammersley Apprentice Printer programs at Tamarind as part of the foundation's mission to expand the public's awareness of Hammersley's art and life, promote the value of art in the life of the community, and support the advancement of artists' education and creative processes through funding for research and scholarships for art students and other practitioners of the arts.
To learn more about Frederick Hammersley, his work, and the Frederick Hammersley Foundation, visit the foundation's website at hammersleyfoundation.org.
The Residency
The Frederick Hammersley Artist Residency, established in 2017, creates an opportunity to consider Hammersley's legacy as a painter and printmaker, as well as his influence as a conceptual thinker.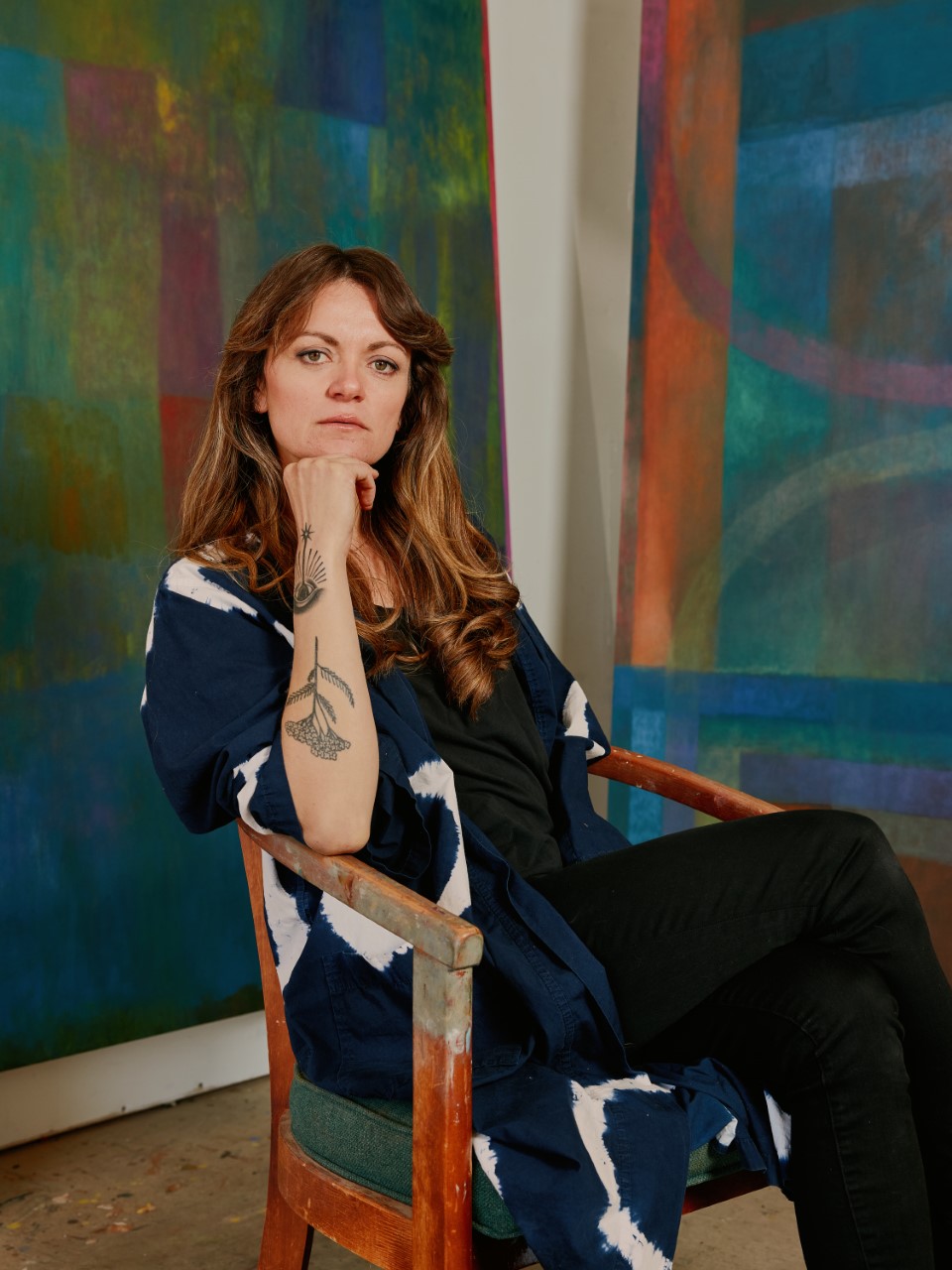 The Frederick Hammersley Artist Residency and its related programs are made possible through the Frederick Hammersley Fund for the Arts at the Albuquerque Community Foundation.
Bosnian born, New Mexico-based painter Maja Ruznic is the recipient of the 2022 Frederick Hammersley Artist Residency at Tamarind. During her residency Ruznic continued to explore the monotype, taking to the physicality of the process, its element of chance, and the idea of pulling an image from an ephemeral, unstable matrix. Through her collaboration with Master Printer Valpuri Remling, sixteen ethereal monotypes emerged. Each piece inspires a deeper understanding of the unconscious mind the weight of memory and trauma.
Ruznic has exhibited internationally, and her work has been written about extensively, most notably in Artforum, ArtMaze Magazine, Juxtapoz, San Francisco Bay Guardian, Studio Visit Magazine, Hyperallergic, and The New York Times. A new monograph on her work, Maja Ruznic, Consulting with Shadows, was recently published by Karma Gallery, New York.
Her work is represented in the collections of the Dallas Art Museum, Dallas; The Rachofsky House, Dallas; EMMA – Espoo Museum of Modern Art, Espoo, Finland; the Jiménez–Colón Collection, Puerto Rico; Portland Art Museum, Portland, Oregon, and The US Embassy in Sarajevo, Bosnia & Herzegovina. Recent exhibitions include Migration of Shadows at Tamarind Institute (2022), Karma Gallery, New York (2020 and 2022), Museo di Palazzo Pretorio, Prato, Italy (2021); Harwood Museum of Art, Taos (2021); Conduit Gallery, Dallas (2020 and 2022); and Denny Dimin Gallery, New York (2019).
The Frederick Hammersley Artist Residency and its related programs are made possible through the Frederick Hammersley Fund for the Arts at the Albuquerque Community Foundation.
Finnish-born, Paris-based painter Henni Alftan is the recipient of the 2021 Frederick Hammersley Artist Residency at Tamarind. Alftan is relatively new to collaborative printmaking and the extended residency provided the opportunity to explore the unique qualities of lithography. The three elegant prints she created during her residency explore ideas of time, movement, simultaneity, transparency, and the essential language of ink on paper.
Alftan is an accomplished painter who draws upon the inherent tension of a fragmented narrative. Her deliberately spare compositions emphasize the artificiality of painting and its materiality, as rendered through exquisite details of physical form and texture. Much of her work centers on domestic space and everyday life, yet her tightly framed figurative subjects are defined through equal measures of exacting description and abstraction.
Henni received her MFA in 2004 from the Ecole Nationale Supérieure des Beaux-Arts de Paris. Her work is represented by Karma gallery in New York, and the gallery recently published a monograph titled Henni Alftan. She has participated in international exhibitions in New York, Berlin, Milan, Helsinki, Seoul, and Vancouver. Her work is represented in numerous museum collections including Institute of Contemporary Art, Miami; Hammer Museum, Los Angeles; Dallas Museum of Art; McEvoy Foundation for The Arts, San Francisco; JNBY Art Center, Shanghai, China; and Helsinki Art Museum, Helsinki, Finland.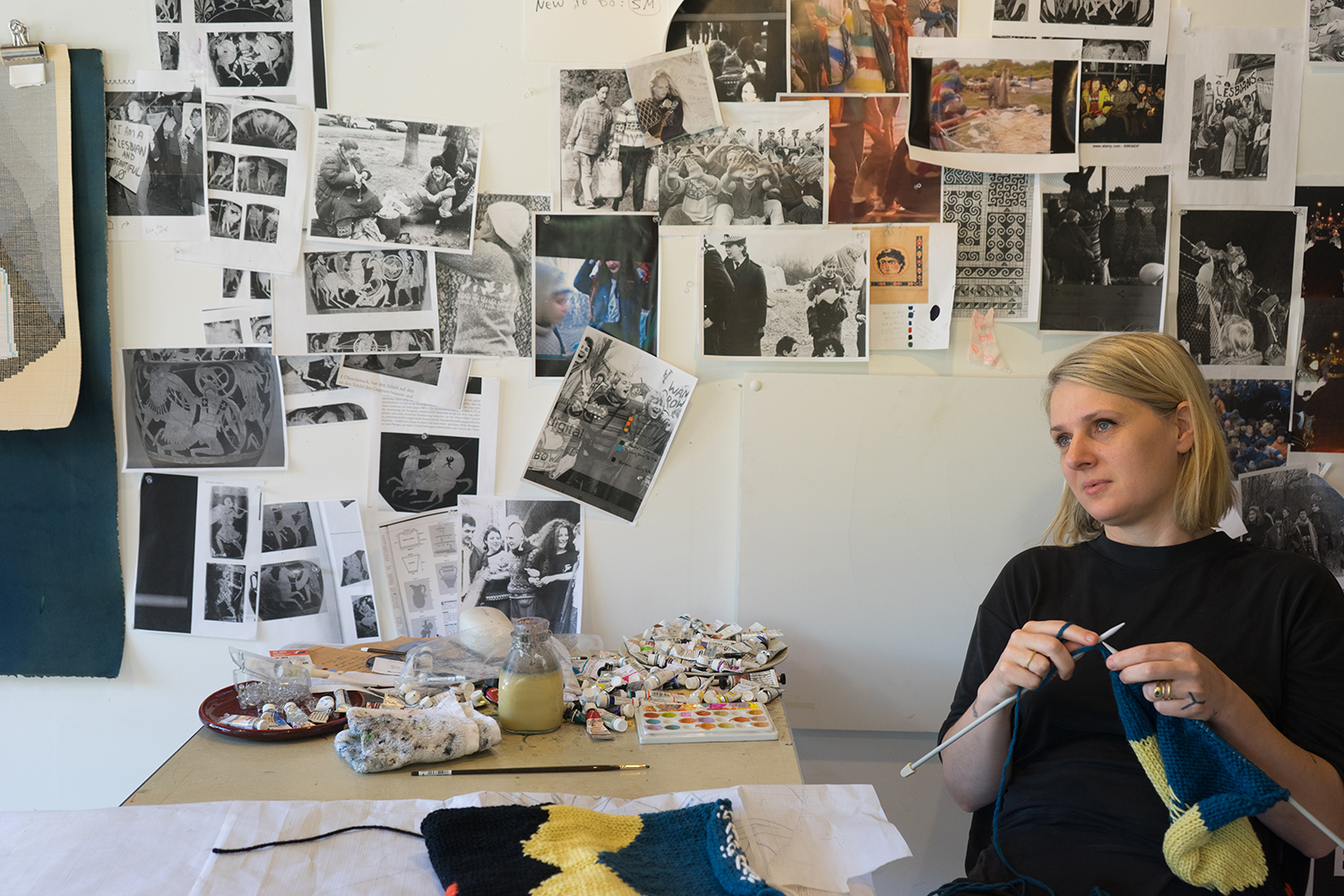 Portland, Oregon based artist Ellen Lesperance is the recipient of the 2020 Frederick Hammersley Artist Residency at Tamarind. Her encoded works on paper are inspired by the attire of women activists, warriors, and cultural figures, from which she generates gridded imagery in the universal shorthand of knitting patterns. Her work addresses the craft tradition of knitting, textiles, and the layered meaning of women's work. 
ellenlesperance.com
Painter Danielle Orchard maintains a consistent interest in the figure and what she recognizes as the "anxiety around intimacy" by pulling from moments in art history when the human figure has been used to indicate an "otherwise hidden psychological position." Her confident use of line and expressive color gives her paintings an air of immediacy while allowing for the extended gestures of rendering and stylization. Born in Indiana and currently living in New York, Orchard holds an MFA from Hunter College and is represented by Jack Hanley Gallery in New York City.
danielleorchard.com
2019 – Head of a Woman: Redressing the Parallel Histories of Collaborative Printmaking and the Women's Movement
Full set of videos from the symposium
R. Luke DuBois is a composer, artist, and performer who "explores the temporal, verbal, and visual structures of cultural and personal ephemera." Based in New York City, DuBois regularly lectures on interactive sound and video performance, and has exhibited and presented his work internationally. He is the director of the Brooklyn Experimental Media Center at the NYU Tandon School of Engineering, co-author of Jitter, a software suite for the real-time manipulation of matrix data, and is on the Board of Directors of the ISSUE Project Room and Eyebeam. His records are available on Caipirinha/Sire, Liquid Sky, C74, and Cantaloupe Music, and his artwork is represented by bitforms gallery in New York City. He holds a doctorate in music composition from Columbia University. More information about DuBois can be found on his website, lukedubois.com. 
Paper engineer Matthew Shlian works in the realm between art and science. His sculptural forms are inspired by organic material and iterative patterns, each piece mapped out digitally, and then folded and assembled by hand. His work as an artist led to collaborations with scientists at the University of Michigan, where his paper folding abilities helped researchers to visualize their work on the nanoscale, translating paper structures to micro folds. His complex paper folds have contributed to investigations such as visualizing cellular division and solar cell development.
More information about Shlian and the prints created during his residency
The past few decades have seen ever-more fertile interpenetrations between the arts and sciences, which is to say a return to the way things used to be in the times of Michelangelo and Leonardo, before the artificial division of those realms about three hundred years ago. Thus, to take just one example, Matthew Shlian, the first artist awarded the Frederick Hammersley Artist Residency, is as at home fashioning his own paper-folding marvels as he is consulting with microbiologists on protein folding or materials scientists on molecular arrays. 
Inspired by Shlian's work as a paper engineer, Tamarind hosted a unique program called the Wonder Cabinet in Albuquerque, April 20-22, 2018. Longtime New Yorker staff-writer Lawrence Weschler, director emeritus of both the New York Institute for the Humanities at NYU and the Chicago Humanities Festival, curated the weekend of presentations, panels, demonstrations, and astonishments of all sorts. Funded by the Frederick Hammersley Foundation.
Frederick Hammersley Apprentice Printers
Lindsey Sigmon
2021-22 Frederick Hammersley Apprentice Printer
Alyssa Ebinger
2020-21 Frederick Hammersley Apprentice Printer
Mike Feijen
2019-20 Frederick Hammersley Apprentice Printer
Christine Adams
2018-19 Frederick Hammersley Apprentice Printer
Contact Tamarind Institute