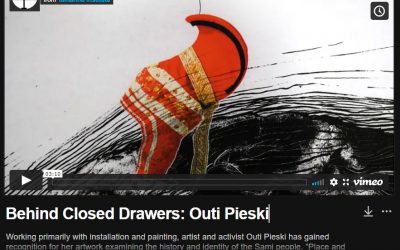 Digital images don't do prints justice; prints need to be experienced. This episode of "Behind Closed Drawers" captures the exquisite blends and washes that make up four lithographs created by Finnish artist Outi Pieski. Video by Ryan Allison; narrated by Tamarind Gallery Director Nancy Zastudil.
"Place and matter have a prominent presence in Pieski's practice. Her works are linked to a specific geographical and a specific cultural landscape and they also draw on materials that have closely defined significance and purposes," writes curator Milja Liimatainen.
Pieski lives in Ohcejohka/Utsjoki and Numminen, Finland.
Watch the video to learn more.
read more