Ed Ruscha
b.1937, Omaha, Nebraska; lives in Los Angeles, California
---
Ruscha started off with the idea that he would be a commercial artist, and he worked as a sign painter and studied with a commercial printer to learn the trade. As he shifted course and traveled to California to attend art school at Chouinard Art Institute, he was struck by the vernacular architecture, gas station construction, and commercial signage he experienced along the way. His work continues to explore the complexity and impact of commercial signage, and the sound and associations of words, looking at language as subject, symbol, and form. His imagery is replete with wit and humor, and captures a fabricated American landscape through decades of inquiry and multiple variations in paintings, artist books, films, prints and drawings.
At Tamarind, Ruscha created several text based lithographs over the course of a number of collaborations. His iconic I'm Sorry I Didn't Mean to Interrupt was included in the workshop's anniversary portfolio Suite Fifteen.
Ruscha is represented in museum collections worldwide, including Museum Ludwig, Cologne, Germany; Museo d'arte contemporanea, Castello di Rivoli, Turin, Italy; The High Museum of Art, Atlanta; The Whitney Museum of American Art, New York; Museum of Contemporary Art, Chicago; Museum of Fine Art, Houston; Museum of Modern Art, New York; Los Angeles County Museum of Art, Los Angeles; and San Francisco Museum of Modern Art, among others.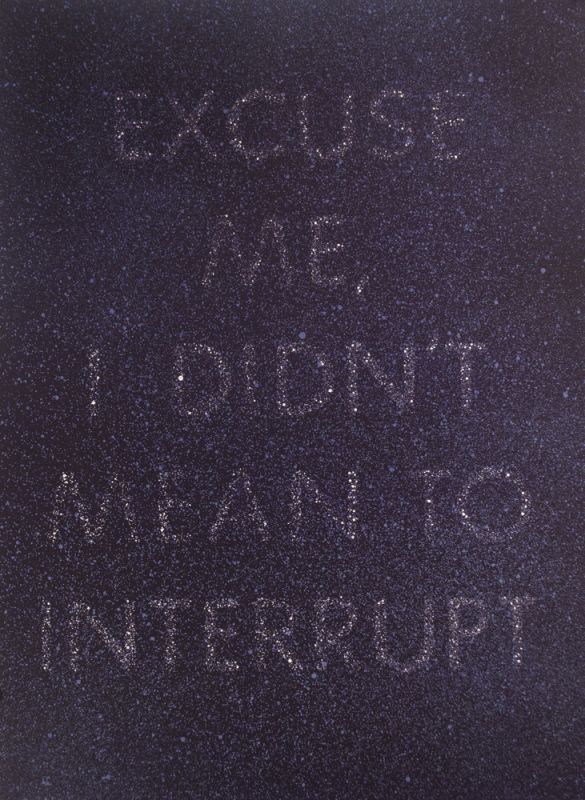 Ed Ruscha
Excuse Me I Didn't Mean to Interrupt, 1975 (75-172)
Two-color lithograph
Paper Size: 76.2 x 55.9 cm
Paper Type: Arjomari Arches
Collaborating Printers: Stephen Britko and David Salgado
Edition of 70
This print is only available as part of the Suite Fifteen portfolio.
More about Suite Fifteen