Luke DuBois
b.1975, Morristown, New Jersey; lives in Brooklyn, New York
---
New York based artist, composer and performer Luke DuBois was the recipient of the Frederick Hammersley Artist Residency at Tamarind Institute in 2018. Strange rumblings and vibrations were heard coming from the workshop during his residency, as DuBois experimented with sound, data sets, and various tools both digital and improvised, to create matrixes that extend the lithographic medium. Marbles danced across an aluminum plate to leave a trail of marks; a retro piece of electronic machinery known as an oscilloscope generated elegant geometric forms; and sound waves produced by the artist scattered bits of litho crayon across the surface of another plate. The resulting prints explore the graphic possibilities of chance, and the challenges of animating grim statistics such as gun violence in the United States.
DuBois generates a complex form of cultural portraiture that speaks to our time, our motivations, and our failings. His work with data visualization on tough socio-economic statistics and his unique handling of technology expands the limits of portraiture and how we define ourselves as a culture.
DuBois is director of the Brooklyn Experimental Media Center at the NYU Tandon School of Engineering, co-author of Jitter, a software suite for the real-time manipulation of matrix data, and is on the Board of Directors of ISSUE. He holds a doctorate in music composition from Columbia University. His work is exhibited internationally and represented by bitforms gallery in New York City.
More information on R. Luke DuBois
Frederick Hammersley Artist Residency
The Frederick Hammersley Artist Residency, established in 2017, creates an opportunity for an artist to consider Hammersley's legacy as a painter and printmaker, as well as his influence as a conceptual thinker. 
Tamarind Posts About DuBois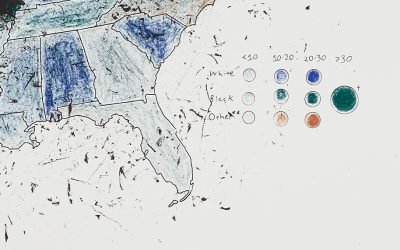 This series builds on the data visualization pioneered by the social activist and educator W.E.B. Du Bois (1868-1963). At Tamarind, DuBois borrowed this method of representing complex data in visual form as a way to make sense of harrowing contemporary statistics.
read more