Mark Dion
born in 1961 in New Bedford, Massachusetts
---
More information about Mark Dion
We caught up with artist Mark Dion during the quarantine to hear his thoughts on the new reality. Seems artists are perhaps the best prepared for isolation. For an artist whose practice includes traversing wide open spaces, specimen collecting, and seeking out...
Exhibition Dates: May 13 - June 13, 2020 Exhibition Reception: Not applicableEXPLORE IFPDA FINE ART PRINT FAIR ON ARTSY Featuring prints by Judy Chicago | Willie Cole | Roy De Forest | Elaine de Kooning | Jim Dine | Mark Dion | R. Luke DuBois | Nicola López | Harold...
Mark Dion is a serious collector of the natural world. His work as an artist pursues fieldwork with integrity and humor, emulating the tradition of the nineteenth-century naturalists who moved the laboratory outside to study living ecosystems in a more comprehensive way. Dion's twenty-first-century version of fieldwork similarly involves close observation and specimen collecting, shadowing the methods and obsessions of an early explorer. Dion is quick to acknowledge that he is not a trained scientist; rather, he is an engaged naturalist who exhibits an ardent curiosity in the workings of the natural world. His broad exploration of how specimens are collected and classified by museums and zoological centers results in his own fantastic collections of curiosity, while raising questions about how natural history is understood in the western world. In this sense, his work as an artist mimics how institutions build knowledge, through the collecting, ordering, and preservation of things.
The portfolio Mark Dion recently produced with Tamarind was part of his western adventures through Texas, an extension of the two-year project hosted by the Amon Carter Museum of American Art, titled The Perilous Texas Adventures of Mark Dion (Feb 8-May 17, 2020). For the Amon Carter project, Dion retraced the footsteps of several nineteenth-century explorers through Texas. His process digs into the oddities and the mundane, the vernacular and the overlooked specimens of culture. The project with Tamarind assembles 19 lithographs in a small wooden box, a tribute to the collecting tools and instruments that these explorers might have used. The Tamarind portfolio, titled Perilous Adventures Field Apparatus, was created in response to the Texas project, and included in the Amon Carter's site-specific exhibition. Dion's hand-drawn tools assemble a wry and endearing collection of the early explorer's analog tool kit.
A sampling from Perilous Adventures Field Aparatus, 2019.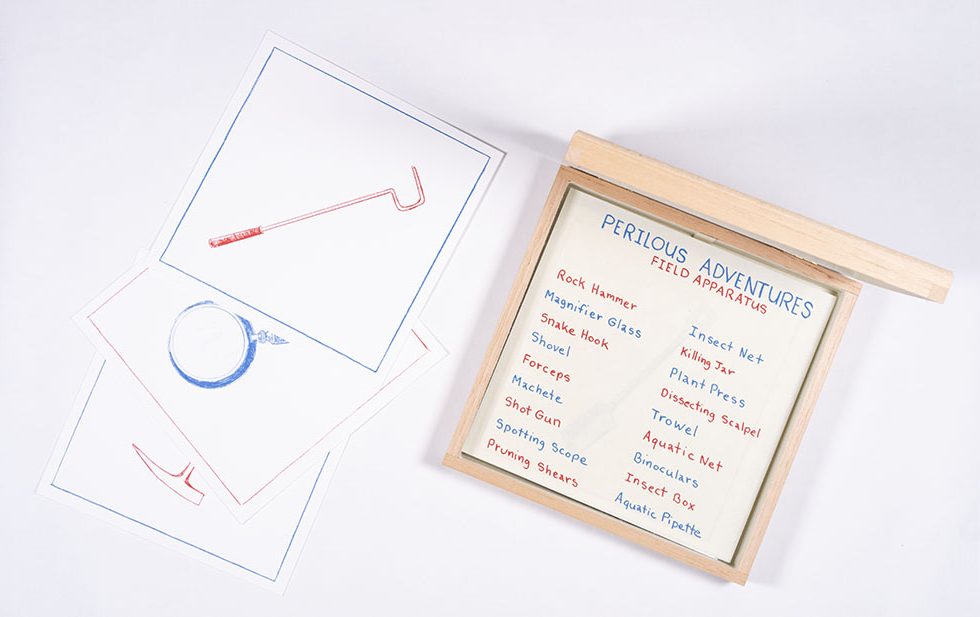 Mark Dion works on a large and complex scale, assembling teams of experts and skilled crafts people to realize his projects. His natural inclination toward collaboration, and his familiarity with collaborative printmaking lent itself to a productive project with Tamarind, where he worked with a team of three printers during an intensive residency. The portfolio includes 18 individual lithographs of carefully rendered tools, along with an inventory sheet of the tools with their proper names. In the process of drawing the tools and naming them, Dion creates a kind of catalogue or inventory of the experience of working in the field, with each instrument capturing some aspect of the contemporary naturalist's adventure.
Mark Dion was born in 1961 in New Bedford, Massachusetts. He initially studied in 1981-2 at the Hartford Art School of the University of Hartford in Connecticut, which awarded him a BFA (1986) and honorary doctorate in 2002. From 1983 to 1984 he attended the School of Visual Arts in New York and then the prestigious Whitney Museum of American Art's Independent Study Program (1984-1985). He is an Honorary Fellow of Falmouth University in the UK (2014), and has an Honorary Doctor of Humane Letters (Ph.D.) from The Wagner Free Institute of Science in Philadelphia (2015). Notable solo exhibitions include Mark Dion: Follies, at Storm King Sculpture Park (2019), Theatre of the Natural World at the Whitechapel Gallery, London (2018), Misadventures of a 21st Century Naturalist at the Institute of Contemporary Art Boston (2017), Mark Dion: The Academy of Things at The Academy of Fine Arts Design in Dresden, Germany (2014), The Macabre Treasury at Museum Het Domein in Sittard, The Netherlands (2013), Oceanomania: Souvenirs of Mysterious Seas at Musée Océanographique de Monaco and Nouveau Musée National de Monaco / Villa Paloma in Monaco (2011), The Marvelous Museum: A Mark Dion Project at Oakland Museum of California (2010-11), Systema Metropolis at Natural History Museum, London (2007), The South Florida Wildlife Rescue Unit at Miami Art Museum (2006), Rescue Archaeology, a project for the Museum of Modern Art (2004), and his renowned Tate Thames Dig at the Tate Gallery in London (1999).  Dion lives in Copake, New York, with his wife and frequent collaborator Dana Sherwood, and works worldwide.