Tamarind offers the only formal educational program in the world for professional fine art collaborative printers
Tamarind's two-part Printer Training Program is designed for students who wish to pursue careers as fine art collaborative printers. This intensive, full-time program concentrates first on strengthening and refining the students' technical skills, then on the application of those skills to collaborative projects. Prior knowledge of lithography is required. A maximum of eight students will be accepted.
Printer Training Program Courses
Students will be required to enroll in the following courses during the fall and spring semesters:
Fall: Refining Technical Skills
The Professional Printer  (4 credits) an intensive technical course that covers the theoretical and applied aspects of the medium. Taught by Tamarind's education director, Brandon Gunn, the course includes frequent lectures and demonstrations as well as 50 hours or more per week in the workshop.(FA476)
Professional Print Workshop (2 credits)

taught by the Director and other expert staff at Tamarind Institute, this course addresses Tamarind history, policies, management, and the challenges of establishing and sustaining a workshop. The course includes regular readings, class presentations and discussion, and a business proposal to launch a sustainable workshop. (FA475)
Spring: Collaborative Projects

The Professional Printer (3 credits) provides practical collaborative experience for printer-trainees who work with visiting artists, and students from the Department of Art at The University of New Mexico.
History of the Graphic Arts II (3 credits) offered through the Department of Art, covers the development of the original print from Goya to the present, utilizing the University Art Museum collection.
PLEASE NOTE: Although students are required to enroll for only six/seven credit hours per semester, this is an intensive program that requires a minimum of 50-60 hours participation per week.
Printer Training Program Costs
Costs for participation in the Printer Training Program will include University of New Mexico tuition for two semesters, plus living expenses. The University extends in-state tuition and non-degree seeking rates to Tamarind students. For the first semester only, Tamarind collects a workshop fee of $2000 for expendable materials (payable directly to Tamarind by July 1). Additional drawing and printing supplies will cost students approximately $500.
International Students
Students who are not United States citizens will be required to obtain a visa. After a student is admitted to Tamarind, The University of New Mexico will initiate the paperwork needed to obtain a visa. All foreign students must prove that they have the equivalent of approximately $18,000, the amount necessary to support one person (the amount is greater if family members accompany the student) for the nine-month period of the Tamarind course. Due to the intense demands of the course, outside employment is not allowed. International students are not eligible for federal student loans, but may apply for limited financial assistance from Tamarind Institute.
Master Printer Apprentice Program
Students who have successfully completed the Printer Training Program may apply for admission to the Master Printer Apprentice Training Program, a year-long apprenticeship in Tamarind's professional workshop. A limited number, typically one or two student printers, are selected to stay on for an additional year of training in Tamarind's professional workshop. Apprentice printers collaborate with and print editions for visiting artists, participate in shop management, and conduct an extensive research project, under the supervision of the master printer and workshop manager. 
Apprentice printers who successfully complete a second year apprenticeship at Tamarind are certified as Tamarind Master Printers. There are no fees for the Master Printer Apprentice Program; printers are paid a minimal stipend sufficient to cover basic living expenses.
Master of Fine Arts
Students may also pursue a M.F.A. in collaborative printmaking, with a focus on lithography, offered by Tamarind in cooperation with The University of New Mexico Department of Art. Details on the M.F.A. program, including the application process, are outlined under 
Tamarind M.F.A. Program.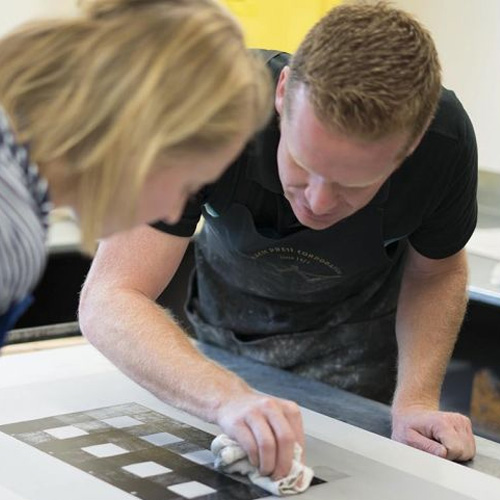 Brandon Gunn, Tamarind Master Printer
Professor of Practice/Education Director
Brandon J. Gunn joined the Tamarind staff in January 2016 as Director of Education. Gunn is originally from Orem, Utah. After receiving a Masters degree in Printmaking at Illinois State University in 2006, and the Tamarind Master Printer Certificate in 2008, he began teaching full time, in addition to producing his own artwork, printing collaboratively, and constructing leather rollers. Gunn has considerable experience as a collaborative printer and educator, and is extremely knowledgeable in traditional and modern lithography, intaglio, woodcut, and digital printing techniques. He has taught undergraduate and graduate level courses at Santa Fe Community College, Concordia University in Montreal, Brigham Young University Idaho, and Indiana University in Bloomington. He has also printed at Normal Editions Workshop, Stinger Editions, and for Indiana University's visiting artist program. Gunn is responsible for the internationally recognized Professional Printer Training Program and the intensive Summer Workshop. He also regularly conducts external workshops and presentations, researches new materials and techniques, and consults with educational institutions, workshops and suppliers in the field. 
How to apply for Tamarind's Programs
Download the Printer Training Application  or Summer Workshop Application and send application and related materials to Tamarind Institute, 1 University of New Mexico, MSC04 2540, Albuquerque, NM 87131-0001. Or, applicants may e-mail materials to tamarindeducation@unm.edu .
For students applying for the MFA Program, please note that there is a separate application to the College of Fine Arts, which will be reviewed independently of the Tamarind application. Students must apply for both the Tamarind Printer Training Program and the UNM MFA program. January 14 is deadline for both programs.
Applications for the 2022 Summer Workshop and 2022-23 Printer Training Program MUST BE RECEIVED BY JANUARY 14, 2022