Tamarind Institute offers a four-week technical workshop for teachers and students of lithography. This course includes the theory and chemistry of plate lithography, drawing techniques and materials, processing, and editioning.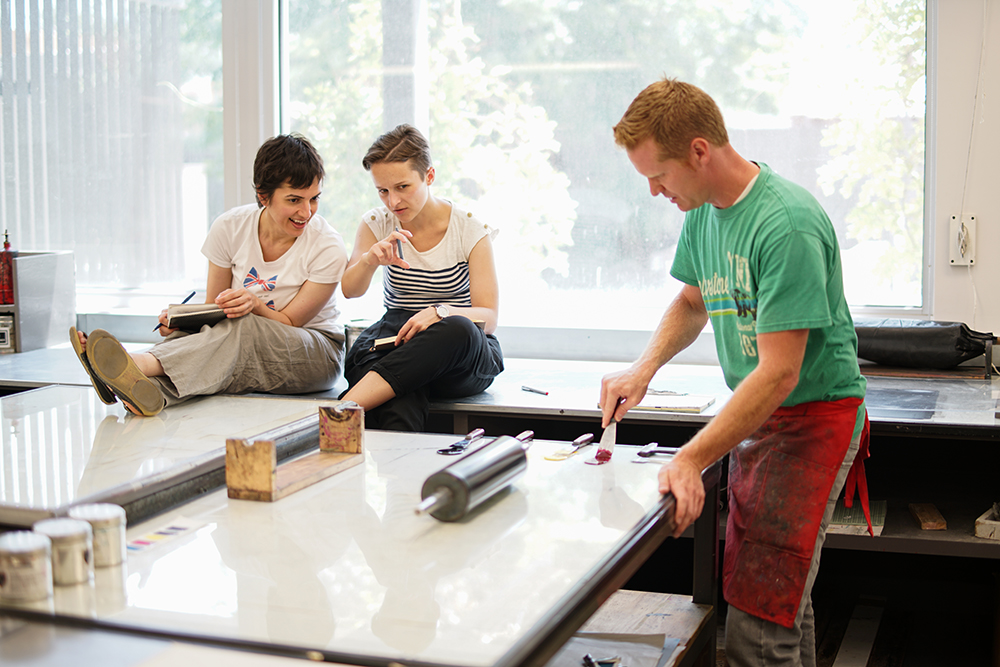 Costs
$1500 (plus University of New Mexico tuition, approximately $900 for those who wish to enroll for credit). If you choose to take the Summer Workshop for credit, you must contact Tamarind's Business Manager, and apply to UNM directly (a small fee will apply) as soon as possible after acceptance.
Supplies
Supplies may be purchased as needed from Tamarind. Costs vary, depending on the ambitions of the participant, from $100 – $500, with an average expenditure of approximately $250 for paper and other materials.
Housing
You may wish to investigate short-term rental options online (for example, VBRO or Airbnb). Proximity to Tamarind is an important consideration, so we advise that you check with us before you commit to a place.
2021 Dates
July 12 – August 6, 2021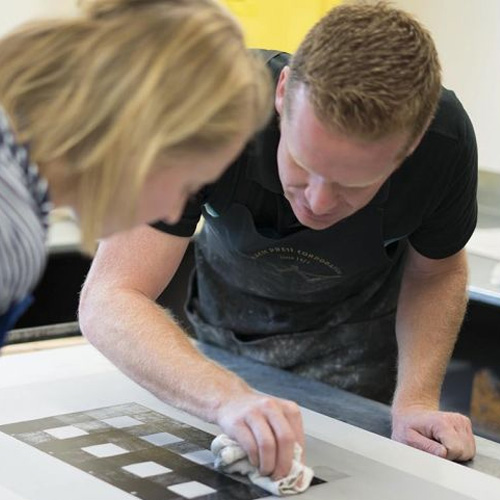 Brandon Gunn, Tamarind Master Printer
Professor of Practice/Education Director
Brandon J. Gunn joined the Tamarind staff in January 2016 as Director of Education. Gunn is originally from Orem, Utah. After receiving a Masters degree in Printmaking at Illinois State University in 2006, and the Tamarind Master Printer Certificate in 2008, he began teaching full time, in addition to producing his own artwork, printing collaboratively, and constructing leather rollers. Gunn has considerable experience as a collaborative printer and educator, and is extremely knowledgeable in traditional and modern lithography, intaglio, woodcut, and digital printing techniques. He has taught undergraduate and graduate level courses at Santa Fe Community College, Concordia University in Montreal, Brigham Young University Idaho, and Indiana University in Bloomington. He has also printed at Normal Editions Workshop, Stinger Editions, and for Indiana University's visiting artist program. Gunn is responsible for the internationally recognized Professional Printer Training Program and the intensive Summer Workshop. He also regularly conducts external workshops and presentations, researches new materials and techniques, and consults with educational institutions, workshops and suppliers in the field. 
How to apply for Tamarind's Programs
Download the Printer Training Application  or Summer Workshop Application and send application and related materials to Tamarind Institute, 1 University of New Mexico, MSC04 2540, Albuquerque, NM 87131-0001. Or, applicants may e-mail materials to tamarindeducation@unm.edu .
For students applying for the MFA Program, please note that there is a separate application to the College of Fine Arts, which will be reviewed independently of the Tamarind application. Students must apply for both the Tamarind Printer Training Program and the UNM MFA program. January 15 is deadline for both programs.
Applications for the 2021 Summer Workshop and 2021-22 Printer Training Program MUST BE RECEIVED BY JANUARY 15, 2021