FORMS
This page is intended as a one-stop location for any forms you may need. Information on each program is available under the Education section. If you cannot find the form you need, please email us at tamarind@unm.edu. 
How to apply for Tamarind's Educational Programs
Download the
Printer Training Application
,
May Summer Workshop Application
or
July Summer Workshop Application
and send application and related materials to Tamarind Institute, 1 University of New Mexico, MSC04 2540, Albuquerque, NM 87131-0001. Or, applicants may e-mail materials to
tamarindeducation@unm.edu
.
For students applying for the MFA Program, please note that there is a separate application to the College of Fine Arts, which will be reviewed independently of the Tamarind application. Students must apply for both the Tamarind Printer Training Program and the UNM MFA program. January 15 is the deadline for UNM's College of Fine Arts.
Applications for the 2024 Summer Workshops and 2024-2025 Printer Training Program MUST BE RECEIVED BY JANUARY 15, 2024.
Tamarind offers scholarship support for students enrolled in the one-year Printer Training Program.
The Marjorie L. Devon Tamarind Scholarship Fund, created in honor of Tamarind's Director Emerita who served for thirty years (1985-2015), provides several merit-based scholarships between $2000-8000. This scholarship fund provides support for tuition and workshop fees and will be awarded to students expressing an interest in pursuing a professional career in collaborative printmaking.
Applications from candidates accepted into the Printer Training Program are due March 1, 2024. Please inquire with tamarind@unm.edu for information and to request an application form.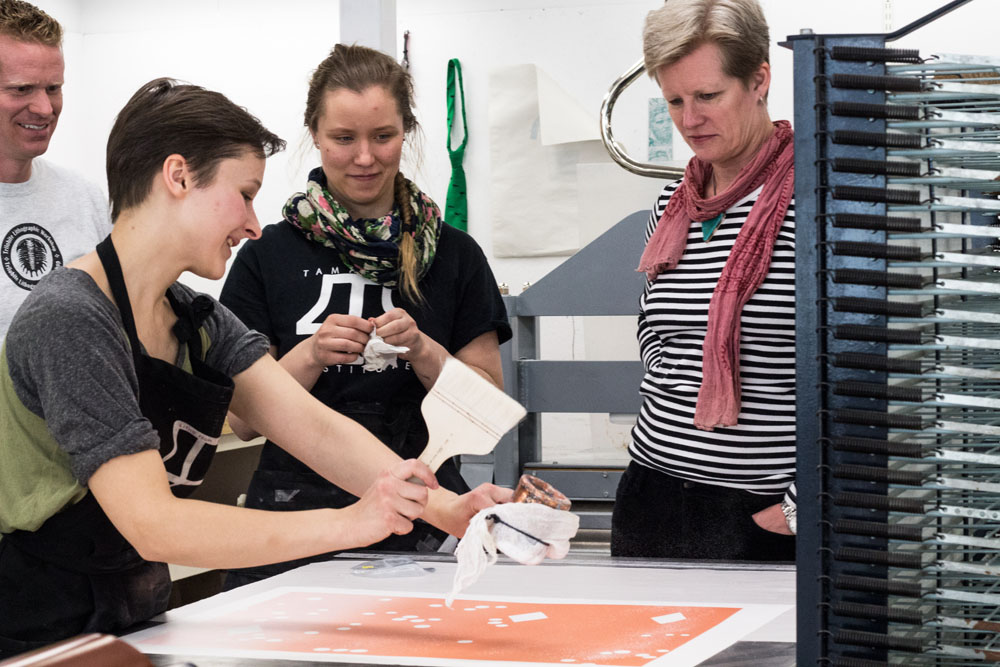 Call for Artist Proposals
Collaborations with student printers
Tamarind Institute invites applications for artist collaborations with its skilled student printers. Three guest artists will be selected to participate in two-week residencies in the workshop, each working with a team of student printers under the close supervision of a Tamarind Master Printer. Participating artists will create two print editions as outlined in the Call for Proposals, with the printers providing guidance on the materials and all technical aspects of the printing process. No printing experience necessary.
Applications are due October 30, 2023 (extended from October 1) for the following spring program. 
Contact Tamarind Institute